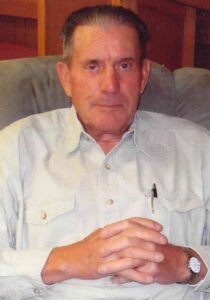 Longtime resident of New Richmond WI, Glen Shilts, age 90 passed away on September 25, 2023 surrounded by his family.
Glen was born on February 14, 1933 in Chippewa Falls, WI. He spent most of his young life in the Hayward, WI area.
Glen was a caring, strong, honest, loving and generous person, who cherished his family and friends. He especially enjoyed spending time with his siblings.
Glen met his wife Patricia Archambault in October 1952, and they married on March 28, 1953. This year they celebrated their 70th Wedding Anniversary!
He started his work career with his family at Shilts Trucking, a Logging business.
In 1953 he took a job in Superior WI, building steel tanks for Chicago Bridge & Iron. Which included traveling with his family to the job site locations in North Dakota, South Dakota, Michigan, Ohio, Missouri, Kansas, Nebraska, Wyoming, and Montana.
In mid-1965 Glen worked his last job for Chicago Bridge & Iron in Savanna, IL which totaled 13 years.
A short time was spent in Hazen ND, before settling in New Richmond WI in August 1966 where he began work at the King Plant in Bayport MN. When this job was finished Glen worked at several more worksites as a Boilermaker Mechanic which included Power Plants, Refineries and Dams.
When Glen decided to retire in 1993; he had worked about 57 years total; but remained a member of the Boilermaker Union #647; this year is 70 years and was 1st or 2nd on the seniority list. He was especially proud of this achievement. Retirement allowed him the time to enjoy all of his favorite outdoor activities.
Starting with riding Motorcycles (Gold Wing and Honda) with many spontaneous joyrides, road trips throughout Wisconsin and a few treks cross country – with his wife Patricia joining him on a few trips.
He next added 4-Wheelers trail riding primarily near Trego, WI. Most times family joined him in this fun. Some rides were great but dusty, some had deep water to master and a few times rescuing someone from situations. They always brought packed lunches. These adventures included his brothers, along with son Russell, daughters, son-in-laws, nephews, cousins and friends. It was only HONDA ATV's for Glen. Several years later he added a HONDA Side-by-Side. Sometimes the rides took them up north and Patricia would join Glen and get to pick some Princess Pine along the trails or edges of the woods.
Not done yet, Glen added a winter sport – Snowmobiling! Which lead to many years of countless good times. During this season he loved to Test, Ride, Tweak, and Retest until it was running JUST RIGHT. In fact, this sport started quite a competition between the Shilts brothers. Of course, Racing their machines scratched their need for Speed. (Ski Doo, Chaparral, Polaris, Yamaha, & Arctic Cat) Eventually, his son Russell and grandsons Kerry & Kelly began winter racing and summer Grass Drag Racing along with sponsors to earn cash prizes & points! Great Grandson Kyle soon joined in for a shot at these competitions. The Shilts Racing Team grew with other family as spectators, crew, or as contestants. Glen would take Recreational rides through northern townships near New Richmond, out to Cedar Lake, and up north near Trego, WI for a weekends of fun in the snow.
Glen also owned a legendary Glastron Boat; but, of course, a bigger motor (Mercury 750HP) was added to handle all the family and extended family Waterskiing. This was a favorite for many weekends at Church Pine Lake, Bass Lake and Cedar Lake.
Many of you know Glen's ultimate passion was FAST Cars and Trucks. From the Model-A all the way to the vehicles of today. His two favorites were a 1965 Pontiac 421 Catalina he'd purchased in Kansas and his most cherished 1986 Monte Carlo SS (HP350). The story goes, Glen was driving at the age of 4, running around outside with only a Pie Tin as a steering wheel. About 10 years later he was driving cars to help on the farm. At age16 he was stopped by a local Officer; who asked Glen "Do you have a license?; He answered "No". The Officer said, "Come On let's go get you one". Glen looked forward to reading his Hemming Motor News magazine every month. He was also a member of the New Richmond Car Club for a few years.
Can't forget his love of hunting deer in Wisconsin and Elk in Colorado. Their Colorado Hunting Camp was setup near the mountaintop and Glen was so glad he made that trip several times. Not surprising the Shilts & Stelter families believed this time of year was a "National Holiday".
When you think of Glen, a few things that come to mind are: earning the noted ability of "Shiltsing Along" which means "Giving 110%". The family learned of this honor at his retirement party. He was a bit Competitive, loved Country Music and Gospel. His faith in God was strong, respected others, had one heck of a powerful handshake, and was happy when someone stopped by to visit. Liked the challenge of working on engines to make them better and faster. Loved attending Family Reunion Picnics, and HEY DAYS.
Glen is survived by his loving wife, Patricia; Son, Russell (Steph)Shilts; Daughters, Rena (Tim) Sager, Patsy Johnson, Carolyn (Steve) Amundson, and Mary Shilts; siblings, Kenneth (Barbara) Shilts, Gerald (Eunice) Shilts, George (Elnora) Shilts, JoAnn (Ryan) Becker, Melvin (Donna) Shilts, Dave Shilts, Don (Janice) Shilts, Linda (Derek) Cracker, Darlene (Mike) Dailey, and Naomi Marquart; grandchildren, Kerry, Kelly, Russell, Kim, Corey, Chrissy, Peggy, Chad, Tony, Steven, Tanya, Melinda and Matthew; 22 great-grandchildren; stepgranddaughter, Ashley; step great-grandchildren; and many nieces, nephews and other cherished family and friends.
Those who preceded him in death: daughter, Jane Ann; parents, Douglas & Violet Shilts; in-laws, James Archambault and Hazel Engstrom; brothers, Clayton and Gordon Shilts; brother-in-law, David Marquart; and son-in-law, Bruce Johnson.
Memorials may be directed to Alzheimer's Association, American Heart Association, or Lakeview Homecare & Hospice (5803 Neal Ave N.,
Oak Park Heights, MN 55082).
A Funeral Service was held on Saturday, October 7, 2023 at 1:00PM at Immaculate Conception Catholic Church (151 S Washington Ave) in New Richmond with a visitation starting at 11:00AM. Private family interment was in Immaculate Conception Catholic Cemetery. Arrangements are with Bakken-Young Funeral & Cremation Services.