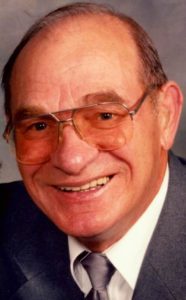 Glen E Beestman, age 90 of New Richmond, died on Monday, February 14, 2022 at Deerfield Gables Care Center in New Richmond. He was born the son of Herman and Mary Beestman on December 17, 1931 at his parent's farm in rural Baldwin, WI. Glen was the fourth of ten children. He went to elementary school at Willow Hill country school south of Hammond. While in school, Glen worked on many farms. Following school, Glen served in the Air Force from 1956-1961. He served three years overseas in Wetherfield Air Force Base in England and one year at Forbes Air Force Base in Kansas. Glen worked for Andersen Windows from 1965 until his retirement in 1993. He married Ellen Flatten on November 7, 1970 in New Richmond WI at First Lutheran Church. After his retirement, Glen and Ellen loved traveling. In July of 2005, Ellen passed away due to a brain aneurysm. They were married for 35 years. Glen moved to the Deerfield in 2010. Glen was an avid gardener with many vegetable and flower gardens and loved working in his yard. He was caring, polite, and thoughtful. Glen was a storyteller and a jokester who loved teasing the nurses at the Deerfield with his quirky one liners. While at the Gables, Glen loved doing word find puzzles, playing Bingo, attending worship services, and reading.
He is preceded in death by his parents, Herman and Mary Beestman; wife, Ellen Beestman; stepsons, Kenneth, Curtis, and Roy Flatten; brothers, Lester, Gerald, and William Beestman. Glen is survived by his stepdaughter, Linda Rogers (Mike Miller); stepdaughters-in-law, Maxine and Susan Flatten; eight grandchildren; 19 great-grandchildren; three great-great-children; siblings, Marge (Larry) Calvert, Ruth Hillestad, George (Donna) Beestman, Joyce (Pat) Pollock, Cliff (Kathy) Beestman, Ann Otto; and many nieces, nephews, relatives, and friends.
A Memorial Service was held on Sunday, February 20, 2022 at 3:00PM at Bakken-Young Funeral & Cremation Services (728 S Knowles Ave) in New Richmond with a visitation one hour prior to the service. Military honors was performed by the VFW Post 10818 of New Richmond following the service. Interment was in New Richmond Cemetery. Arrangements are with Bakken-Young Funeral & Cremation Services.
Click here to watch the recording of Glen's service.