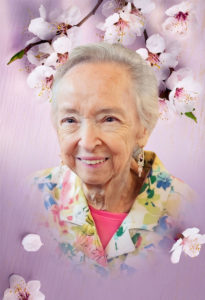 Geraldine "GiGi" Doffing, nee Fredrickson, age 82 of New Richmond, WI, died on Wednesday, February 16, 2022 at Lakeview Hospital in Stillwater, MN.  GiGi was born in Elko, MN at the family home. She was the oldest of seven children. She was raised in the Elko/New Market area and later attended school in Lakeville, MN.
She married her high school sweetheart, Theodore Ament, in 1956 and together they had five children (Laurie, Tim, Lisa, Linda and Lana). They later divorced.
Her working career consisted of everything from secretarial to baking biscuits at Hardees to taking care of Alzheimer's patients.
GiGi was an avid sports fan (especially the MN Twins and MN Vikings), but she also loved birds, flowers, the deer that would visit her out her living room window and she loved to listen to music and sing. She was extremely proud of her children, grandchildren and great-grandchildren. She was the proud grandmother to thirteen grandchildren, fifteen great-grandchildren and many step grandchildren and great-grandchildren (which she loved just the same).
She will be remembered for her daily phone calls to those she loved (and there were many). She always said "I call people so I don't talk to myself." She will also be remembered for her love, compassion, joyfulness and goofiness. She never wanted to miss a birthday party or get-together and if she couldn't' make it, she would always send a card. She would tell anyone that listened how proud she was of her family.
GiGi is survived by her children, Laurie Ament, Tim (Kim) Ament, Lisa (Dennis) Cunningham, Linda Ament and Lana Ament. Also her siblings, Jay (Bonnie) Fredrickson, Stan (Diane) Fredrickson, Angie Mack, David (Opal) Fredrickson. As well as her many grandchildren and great-grandchildren.
Preceded in death is her Father, Arthur Fredrickson, her Mother, Norma Fredrickson, brothers, Wayne and Jackie Fredrickson.
A Celebration of GiGi's Life was held on Saturday, February 26, 2022 from 11 am – 2 pm at Bakken-Young Funeral & Cremation Services 728 S Knowles Avenue New Richmond, WI 54017. There will also be a Celebration Picnic this summer because GiGi loved the warm weather and picnics!  Arrangements are with Bakken-Young Funeral & Cremation Services.