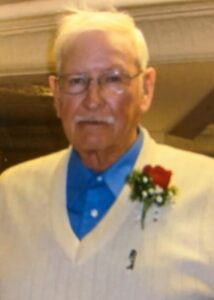 Gerald Reuben Stein of Durand, WI was born on July 5, 1935 and passed away on May 12, 2023 at home surrounded by his loving wife, Bonnie and daughter, Kay. He grew up farming, and enjoyed music ministry with his family, singing and playing in area churches. Later he sang with an area quartet. He went to school at Pleasant Corner School near Lund, WI, then continued and graduated at Pepin High School in 1953. Gerald and Bonnie Jean Anderson of Plum City, WI were united in marriage at Sabylund Lutheran Church in Stockholm, WI, on May 15, 1958. Gerald and Bonnie farmed together on their farm near Lund, WI for over 30 years, raising their four children. While farming Gerald also owned and operated a wholesale fruit and vegetable truck route, drove a school bus route on and off for several years and worked for the town of Maiden Rock, while Bonnie held down the farm. Gerald also drove route truck for Bauer Built Tire and was on the Pepin School Board for twelve years. After farming, they moved to Plum City, WI and lived there for the next 20 years, then moved to Durand to spend the rest of their retirement. They have enjoyed 65 years together. A special thanks to Dr. Ken Rucker and the team from St. Croix Hospice. "You were all amazing and Gerald was very thankful."
He is preceded in death by his parents, Wilford and Rubie Stein; brother, Clinton Stein of Amery. Gerald is survived by his wife, Bonnie Stein of Durand WI; children, Randy (Brenda) Stein of Ettrick, WI, Steven (Shirley) Stein of Eau Claire, WI, Lisa (Ross) Van Allen of Pepin, WI, and Kay (Michael Dutch) Biederman of Arkansaw, WI; grandchildren, Jason Stein of Ettrick, Andrea (Justin) Olson of Trempealeau, Alyssa (Camden) Harp of Arizona, Amber (Craig) Amorose of Mondovi, Ryan Stein of Menomonie, Autumn Stein of Ettrick, Steven II (Jackie) Stein of South Dakota, Tina Ramirez of Tennessee, Amanda (Joe) Gotmer of Tennessee, Timothy (Taylor) Van Allen of Mankato, Abigail Serene of Madison, Matthew (Jena) Serene of Plainview; great-grandchildren, Preston and Vaeda Amorose, Elizabeth Karratti and Michael Ramirez, Steven III and Tyler Stein, Ava and Olivia Gotmer; step grandchildren, Tiffany (Andy) Lee of Durand, Michael Biederman Jr. of Texas, Cameron (Taylor) Schiffer of Rock Falls, Danielle Biederman of Rochester; step great-grandchildren, Kennedy Garner, Hadley and Corbin Schiffer, and Harper Farthing.
A Funeral Service was held on Tuesday, May 16, 2023 at 11:00AM at Sabylund Lutheran Church (W11137 County Road J) in Stockholm, WI with a visitation one hour prior to the service. Interment was in Moravian Cemetery in Stockholm. Arrangements are with Bakken-Young Funeral & Cremation Services.