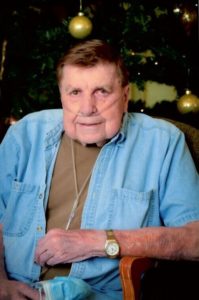 Gerald (Jerry) Allen Soderquist, age 77, formerly from Star Prairie, but within the last year moved to New Richmond to an independent apartment at Deerfield.
He was born the son of Robert and Lorraine Soderquist on June 13, 1944, in New Richmond, WI.
He graduated from New Richmond High School with the class of 1962, then two years of trade school in Eau Claire, WI.
He then went and worked for Doughboy as a machinist.
Jerry married Gail Peterson on June 18, 1966, they lived in New Richmond, then moved to Star Prairie to make their home. They shared 52 years of marriage together.
Jerry also worked in North St. Paul for VJ engineering, then Jerry and a partner bought their own machine shop in Fridley, MN where he retired from.
He enjoyed, fishing, hunting, bowling, horseshoe, camping, golfing, snowmobiling, NASCAR, and football.
He enjoyed spending time with family and friends. He and Gail were very active in the community.
He is preceded in death by his wife, Gail; his parents, Robert and Lorraine Soderquist; brother-in-law, Curt Bulman; father-in-law and mother-in-law, Harland and Viola Peterson; brother-in-law, Roger Peterson; and sister-in-law, Gayle Peterson.
He is survived by his sisters, Barb (Sam) Boatman and Diane Bulman; sister-in-law, Betty Peterson; brother-in-law, Glen Peterson; sister-in-law, Linda Pacquin; sister-in-law, Tammie Gross; and many nieces, nephews, relatives and friends.
A celebration of Jerry's Life was held on Saturday, April 9th, 2022, at 11 am at Bakken-Young Funeral & Cremation Services, 728 S. Knowles Avenue New Richmond, WI. Visitation was also on Saturday from 9-11 am at the funeral home. Interment was in Oakland Cemetery in Star Prairie, WI. Arrangements are with Bakken-Young Funeral & Cremation Services.
Click here to watch the recording of Jerry's service