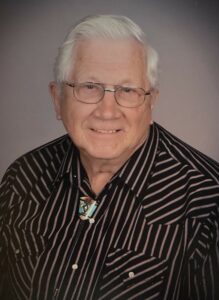 Gerald "Jerry" Edward Madsen, 85, passed away with his family by his side from congestive heart failure on Monday, May 29, 2023 at the Christian Community Home in Hudson, WI.
He was born March 9, 1938 in Baldwin, WI to Edwin and Eileen Madsen, and was the oldest of three children on the family dairy farm in River Falls, WI. He graduated from River Falls High School in 1957 and served in the United States Air Force for four years as a mechanic. He came back to Wisconsin and on June 13, 1959 married Joan Schullo at St. Patrick's Church in Hudson, WI. They had met on the "best blind date he ever had," a date that lasted 63 years. The couple moved to Sacramento, CA for a year and a half while Jerry was in the Air Force and then returned to River Falls and started their family, being blessed with two daughters, Julie and Patty.
Those early years he helped his father on the family dairy farm, milking cows and putting in crops. He and Joanie bowled in a couples league and he also bowled Monday nights in the men's league. He loved cars, was a good mechanic, and was always tinkering with something in the garage: cars, trucks, model air planes and other wood crafts.
Jerry liked to travel and summers brought family camping trips and out-west road trips with every detail carefully planned. Those trips eventually circled back closer to home and they bought a trailer in Minong, WI where they could be by the lake.
Jerry worked at the River Falls Post Office until he retired at age 55, and was a familiar figure to many around town as he delivered mail along his route—how many pairs of shoes had he walked in! As much as he enjoyed his job and the people he met along the way, he and Joanie were excited to travel and explore the West again, making Casa Grande, AZ their winter home for many years.
He enjoyed telling tales of growing up with neighbors, the bike rides, sledding, skating, and school adventures, and became interested in researching family history, which he shared stories of with his grandchildren.
Jerry is survived by daughters, Julie (Dave) Melin of Grantsburg, WI and Patty (Doug) Nelson of Cushing, WI; grandchildren, Tara (Aaron) Littlefield, Nathan (Kelsey) Melin, Hannah Melin, Connor Nelson and Lyndsey Nelson; great-grandchildren Payton, Axel, Pearl, Prestyn, Pyper, Luella, Rudy, and Gus; sister, Jeanine Hanson; brother, Bob (Thekla) Madsen; sister-in-law Betty (Chuck) Johnson and many nieces, nephews, and special daughter, Dawn Friedrich.
Jerry is preceded in death by his wife, Joan Madsen; brother-in-law Duane Hanson; brother-in-law Jim (Wanda) Schullo, and parents, Edwin and Eileen Madsen.
A Memorial Mass of Christian Burial was held on Friday, June 16, 2023 at 12:00 noon at St. Bridget Catholic Church (211 E Division St.) in River Falls, WI and streamed live through the link just below this obituary. Visitation was also on Friday from 10-Noon at the church. Interment was in St. Bridget Cemetery. Arrangements are with Bakken-Young Funeral & Cremation Services.
Watch Gerald's Mass below.