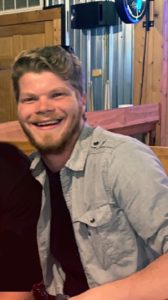 Gerald Michael Rand of Somerset WI was tragically taken from earth and re united with his mother the night of June 1st 2022 when his vehicle was struck broadside by a drunk driver. Jerry was born the 24th of June 1999 at United Hospital in Saint Paul Minnesota to his parents George Michael and Lisa Kay Rand.  Brother to Samantha Rae (Rand) and Luke William Bensend, Uncle to Lyle William Bensend.
 Jerry graduated from Somerset High School in 2017, and proceeded to continue his education at the University of Wisconsin-Stout, where he earned a Bachelor's of Science Degree in Supply Chain Management in December of 2021.  Jerry started his career as a Product Planner for Graco Incorporated in January of 2022.  Jerry's dedication and passion to his work and the production team that he led was something he prided himself on.
Shorty, Jerry, Jer, held so many names to so many people its hard to list them all, but he wore each name with pride, and dedicated himself to whatever role fit his name that day. He was a son, brother, grandson, uncle, best friend, team mate, outdoorsman, and boyfriend to a few of you lucky ladies.  Jerry loved being out on the court, and racing down the field under those Friday night lights more than anyone.  He was proud to be a part of a team and he prided himself on being the best member of a team that he could be; even when times were tough.  Jerry took that same dedication and hard work to the outdoors; he loved to fly down the river in the nose of a duck boat, sway in the breeze in a tree stand, and get a line wet with his Dad.  Above all else Jerry was a gentleman, always humble and kind. He was the light in room, the laugh in the background, and had a smile that will forever be remembered.
Services for Jerry was held at St. Luke's Lutheran Church in New Richmond Wisconsin (365 West River Drive New Richmond WI 54017). The visitation was held Friday July 1st from 4:00pm to 8:00pm and followed by the funeral services on Saturday July 2nd at 11:00am at St. Luke's Lutheran Church.  Following the funeral services the family would like to invite everyone to Celebrate the Life of Jerry at his sister and brother's home outside New Richmond. The stories are endless and the lives Jerry touched in his nearly twenty- three years are countless, please join us to share those memories once again.
Cremation Services provided by Bakken-Young Funeral & Cremation Services