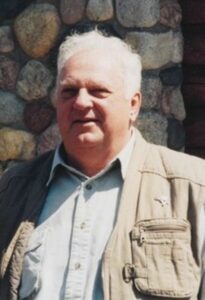 In Loving Memory of Gerald Mikunda
Gerald "Jerry" Mikunda, age 84, died on Wednesday, October 18, 2023 at Mayo Clinic Health System in Eau Claire, WI.
Jerry, a loving husband, devoted father, and cherished grandfather, was born on March 28th, 1939, in Ladysmith, Wisconsin. He touched the lives of many and left an indelible mark of love and warmth on all who were fortunate enough to know him.
Jerry spent over 30 years as a teacher, vocational coordinator, and school administrator where he formed many friendships with colleagues. Throughout his career, Jerry was a staunch supporter and pioneer in the field of vocational education.
He was a man of the outdoors, and it was in the embrace of nature that he found his greatest joys. The rustling leaves, the whispering winds, and the call of the wild were his companions in countless adventures. He had a deep passion for hunting and fishing, and he shared these passions with his family, teaching them not only the skills of the outdoors but also the appreciation of the natural world's beauty.
Working with his hands was more than a hobby; it was a way of life for Jerry. His skills were evident in the many projects he took on throughout the years. Whether it was building furniture, cabinets, birdhouses, refinishing an old table, fixing broken household items, or a meticulously maintained garden, he poured his heart and soul into every endeavor, leaving behind tangible expressions of his dedication and care.
On August 4th, 1993, Jerry married the love of his life, Judith Mikunda. The wedding was held at the UCC church on Madeline Island, one of their favorite destinations. Their three-decade long marriage was a testament to enduring love and unwavering support. Together, they weathered life's storms and celebrated its triumphs, creating a home filled with laughter and love.
Jerry was preceded in death by his parents Edward and Lois Mikunda.  He leaves behind his beloved wife, Judith; brother, Robert (Judith) Mikunda; sons, Robert (Lori) Mikunda and Christopher (Colleen) Mikunda; stepchildren Rebecca (Maury) Jensen, Daniel Fuller, Jared Fuller; grandchildren: Wade Mikunda, Cailyn (Eric) Ebler, Ryanne Mikunda and Jessica LaGrew ; nieces, Andrea, Robyn and Jessica.
As we remember Jerry, we are reminded of the beauty of a life well-lived, a life filled with love for family, a deep appreciation for the natural world, and the commitment to crafting a better world with one's own hands. Though he may no longer walk among us, his spirit lives on in the hearts of those he loved and who loved him in return. His legacy will forever be carried forward by his loving family.
A Celebration of Jerry's Life was held on Friday, November 3, 2023 at 12:30 pm at Bakken-Young Funeral & Cremation Services 805 E Division Street River Falls, WI and streamed live through the link just below this obituary. Visitation was also on Friday, November 3, 2023 from 11 am – 12:30 pm at the funeral home. Interment will be in the Greenwood Cemetery in River Falls, WI at a later date. Arrangements are with Bakken-Young Funeral & Cremation Services.
Click here to watch the recording of Jerry's service