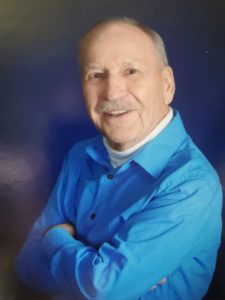 Gerald (Jerry) Richard Gartner age 95 of New Richmond was called home Sunday, June 13, 2021, after spending a love-filled day surrounded by his family. Jerry's unwavering faith and devotion to our Lord Jesus Christ included a quiet confidence that he would one day enter the gates of heaven wrapped in the love of those who had passed before him.
Jerry was born August 29, 1925, to George and Julia (Fuhrmann) Gartner. Jerry grew up in rural Sauk Centre, MN, the youngest of nine children. He entered the Navy at age 17 on August 25, 1943. At 111 pounds, he just met the minimum weight requirement of 110 pounds. As a Pharmacist's Mate 3rd Class Petty Officer (PHM 3/C USN), he was involved in WWII and many operations during his service including the Pacific Theater of Operations. Jerry was honorably discharged on March 31, 1946. Jerry graduated from the Wahpeton School of Science with a degree in General Printing and Linotype Operations in 1952. He was a life-long member of the Catholic Church and a proud member of the Knights of Columbus.
A blind date in 1945 led to the truest and most beautiful relationship when Jerry met the love of his life, Marge Briol. Marge told her father the day after they met "I'm going to marry him." They married on June 3, 1947, and soon after began building their family. Jerry initially worked as a linotype operator and as the trade evolved, he became a printer. Jerry worked at many newspapers throughout the Midwest, and the family moved many times before finally settling in New Richmond in 1966. Jerry worked in the printing department at the University of Wisconsin River Falls for 11 years until his retirement in 1988. Jerry spent his retirement enjoying time with his family.
Jerry was a kind, friendly, and generous man, which was evident to everyone he met. He was a humble man who possessed incredible patience and emanated a light that will shine forever in our hearts. He was also well known for his quick and witty humor.
Jerry is survived by his wife, Margaret (Marge) Gartner; children Bev Bonczek and husband, Bill; Tim Gartner and wife, Cathy; Ann Sawyer and husband, Bob; Greg Gartner and wife, Pam; Mike Gartner and wife, Jan; Jeff Gartner and wife, Ruth; Marie Hagen and husband, Matt. Jerry was blessed with 21 grandchildren, 33 great grandchildren, and 1 great-great grandchild.
A joint Mass of Christian Burial for Marge and Jerry will be held on Sunday, September 12, 2021 at 4pm at Immaculate Conception Church in New Richmond with burial in the church cemetery. Visitation will also be on Sunday from 3-4 pm at the church.  Memorial donations to a charity of the donor's choice are preferred.  Arrangements are pending with Bakken-Young Funeral & Cremation Services.