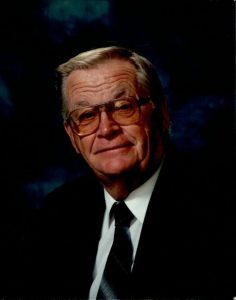 George Edward "Bud" Perry of Bismarck, ND passed away on Wednesday, April 19, 2017 in River Falls, Wisconsin.  He was born February 15, 1935 to LeRoy and Mabel Perry in Watford City, ND.  He graduated from Watford City High School and Dickinson State College where he was a standout student and athlete.  He received his Master's Degree in Education from the University of North Dakota.  He married Carol Ann Olson on June 17, 1956.  They had three daughters, Pam, Debbie, and Cindy.  Bud spent most of his life in Bismarck where he taught school at Bismarck High, and Hughes Junior High schools.  In addition to teaching, he coached boy's golf and basketball, and tutored students at the Charles Hall Youth Home.  Eventually, Bud retired from teaching and he and Carol owned and operated three children's clothing stores in Bismarck, and Valley City, ND.  Later, Bud became the Executive Director for Charles Hall Youth Services.  Bud spent his final years in Mesa, Arizona and Woodbury, Minnesota where he loved to watch golf and baseball and spend time with his family.  A man of great faith, he was active in his church as well as several charitable organizations.
He is survived by wife, Carol Ann, three daughters, Pam (& Tom) Hoggard: Espanola, New Mexico; Deb (& Ken) Gerhardt: River Falls, Wisconsin; and Cindy Diede: Gilbert, Arizona; nine grandchildren, thirteen great-grandchildren, and one great-great grandchild; his sister, Jean Sanford; and several nieces and nephews.  He was preceded in death by his parents, LeRoy Perry and Mabel Huffman; and his sister, Cheryl White.
A Funeral Service was held on Monday, April 24, 2017 at 11 am at the Bakken-Young Funeral Home 805 E Division Street River Falls.  Visitation was held on Sunday, April 23, 2017 from 5-7 pm and on Monday from 10-11 am at the funeral home.  Interment was in Greenwood Cemetery in River Falls.  The family prefers memorials to Charles Hall Youth Services, Bismarck, ND.  Arrangements are with Bakken-Young Funeral & Cremation Services of River Falls.