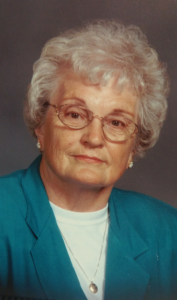 Geneva Mae Peterson, age 90, of New Richmond passed away peacefully on Friday, February 16, 2018, surrounded by her loving family. She was born April 24, 1927, in Seymour, WI, the daughter of Paul and Pearl (Drury) Singerhouse.
She married Bill, the love of her life, in 1947 and they raised their seven children in New Richmond.
Geneva was active at St. Luke's Lutheran Church. She enjoyed hosting family and friends, dancing, gardening, donating to many charitable organizations, and playing Bingo. She treasured her time with her family, especially her grandchildren and great-grandchildren.
Preceded in death by her parents; husband, William (Bill); son, Richard; son-in-law, Dave Mathews; sisters, Genevieve "Genny" Jackelen, Lucille Mullen and Helen Whistler; brothers, Delbert, Francis, Lloyd and Otto Singerhouse.
Geneva is survived by her children: Jean Mathews, Bill (Sheryl) Peterson, Sarah (William) Gardner, Nancy Owen, Nanette (Jeff) Willert and Steve (Brenda) Peterson; daughter-in-law, Pam Peterson; grandchildren, Jeff Johnson, Jennifer Johnson, Ryan (Dani) Peterson, Jeremy Harder, Kysa (Dan) Marten, Amanda (Mike) Bergstrom, Kara (Kevin) Lunsmann, Nicole (Adam) Glickman, Stacy (Jason) Behlke, Michele Peterson, Brandon (Brittney) Willert, and Joshua Owen; great-grandchildren, Jacob, Brittney, Jessica, Chance, Dylan, Payton, Daniel, Javin, Benjamin, Chloe, Conner, Christopher, Alyssa, Lincoln, Carter, Samantha, Brayden, Layla, and Brooklynn; sister, Virginia "Ginger" (Maurice) Murray; brothers, Ken (Karen) Singerhouse and Paul "Dick" (Betty) Singerhouse; as well as many other relatives and friends.
A funeral service was held Tuesday, February 20, 2018 at 11:00 am at St. Luke's Lutheran Church (365 W River Dr.) in New Richmond. Visitation was be held Monday, February 19, 2018 from 4-7 pm at Bakken-Young Beebe Chapel (112 W 3rd St.) in New Richmond and on Tuesday from 10-11 am at church. Interment was in the New Richmond Cemetery. In lieu of flowers, memorials preferred. Arrangements are with Bakken-Young Funeral & Cremation Services Beebe Chapel of New Richmond.