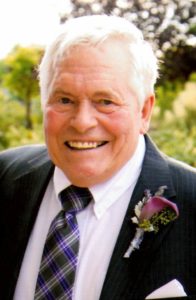 Gene George Nelson passed away peacefully on Tuesday, December 21, 2021, with his wife Alva by his side. Gene was born on May 20, 1937, to Marie and Arnold Nelson. He liked to say that he was born in the same bedroom that he still slept in! He was baptized and confirmed at Zion Lutheran Church in East Farmington, Wisconsin. He graduated from New Richmond High School in 1955 and began his farming career on the original family farm. In his younger years, the three things he loved to do were bowling, old-time dancing, and fastpitch softball.
Gene married Alva Engelhardt on April 6th, 1968, at Zion Lutheran Church. He first saw Alva when he was making repairs at her father's farm. Gene and Alva were married for 53 years. They were blessed with three children: Michael, Renee, and Mark; two grandchildren, David and Samantha; and two wonderful in-laws, Steve Bartelt and Jennifer Wong.
Gene was a farmer all of his life. Even after his accident in 2009, he continued to work on the farm with Michael as long as he could. His goal after the accident was to get back onto his 1066 tractor and he accomplished his goal.  The family farm received the Century Farm award in 2019.
He enjoyed many visits to the Milwaukee area to see his two grandchildren for birthdays, sport, and other events, traveled to California for Mark and Jennifer's wedding, and also traveled to Washington state to see their new home. And of course, he will be fondly remembered for his ability to strike up a conversation with anyone he met!
Gene was preceded in death by his parents, Arnold and Marie, his brothers Vern and wife Doris, Clifford and wife Eldora, and Warren, his sisters Pearl and husband Curt Lumsden, and Leona and husband Lloyd Meehl, nephews John Lumsden, Stuart A. Nelson and Randy Nelson, and nieces Faye Scheil and Cheryl Nelson; father-in-law and mother-in-law, Ralph and Eunice Engelhardt; in-laws, Iris and Richard Bierbrauer; grand-niece, Stephanie Slecha.  He is survived by his wife Alva, children Michael Nelson, Renee (Steve) Bartelt, and Mark Nelson and Jennifer Wong, grandchildren David and Samantha Bartelt; brother-in-law, Allen (Barb) Engelhardt; sister-in-law, Helen Engelhardt. Further survived by many family members and dear friends.
We would like to thank everyone who has supported Gene and our family over these last 12 years.
The family would like to thank the staff at Davita Dialysis and Dr. Pollock for their care of Gene these last twelve years.  We would also like to thank the staff of St. Croix County Health Center-New Richmond and Lakeview Hospice for all of their care and compassion.
A memorial service was held on Wednesday, December 29, 2021 at 11:00 am at Zion Evangelical Lutheran Church (252 State Road 35) Osceola, WI. Visitation was also Wednesday from 9:00-11:00 am at the church.  Interment was in the Oak Grove Cemetery.  Arrangements are with Bakken-Young Funeral & Cremation Services.