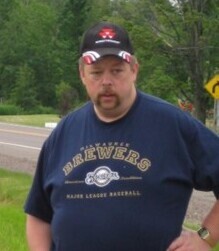 Gary L Swenson, age 60, passed away on June 25, 2022. Gary graduated from River Falls High School in 1980. After high school he farmed the family farm for several years, then worked at a variety of jobs. Gary loved visiting, telling jokes, collecting beer steins and the Packers.
In his early fifties Gary was diagnosed with Chronic Inflammatory Demyelinating Polyneuropathy (CIDP), a rare neurological disorder, and he succumbed to complications of this illness.
Gary is preceded in death by his father, Duane Swenson. He is survived by his mother, Jane Swenson, and sisters Karen (Rodney) Miller and Lori (Dean) Koehler, along with his nephews and great niece and nephews.
A celebration of Gary's life was 2 to 4 pm, Saturday, July 23 at Bakken-Young Funeral home in River Falls. In lieu of flowers, memorials are preferred to CIDP , Research International or the American Diabetes Association
Arrangements are with Bakken-Young Funeral & Cremation Services.