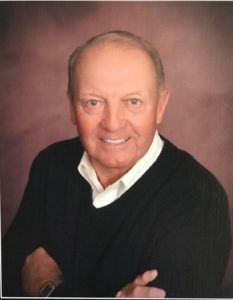 Gary Baillargeon, 81 died peacefully surrounded by his family on Sunday, June 6th, 2021 at Deerfield in New Richmond, WI.
Gary was born September 1st, 1939 to Hansel and Oveila (Mullen) Baillargeon.  Gary grew up on the Baillargeon family farm between New Richmond and Somerset.   He attended UW-River Falls for Business Agriculture and took over the family farm as the 3rd generation farmer with his wife Bonnie (Larson) after they married on June 18th, 1960.
Gary created a life of hard work, family fun, community service and made wonderful memories with family and friends.  He was known as a hard worker, dedicated to his profession in the farming community.
Gary later went into the real estate business at Century 21.  Gary was a faithful servant serving his church and community.  He served on various boards which included St. Anne's Church, New Richmond School District, New Richmond Golf Club and was instrumental in bringing 9 more holes to the course.
God created a wonderful man with a huge heart and desire to make the world smile and laugh through his jokes, pranks and fun!! Recently a book was written about Gary and out of 80 wonderful messages and stories, the majority included a prank, a laugh and his heart of gold! The other stories were of Gary's generous heart, compassion, work ethic and honesty (in between the jokes) which have been God's gift to all of us.
Gary is preceded in death by his infant son, Brian Gary Baillargeon along with parents Hansel and Oveila (Mullen) Baillargeon and sisters Joy Giese and Beth Ulrich.
Gary is survived by his wife, Bonnie and children, Debbie (Bill) Brennan, Dan (Jenni) Baillargeon, Dave Baillargeon and Gary Jr. along with his grandchildren, Tyler (Nicky Wade) Brennan, Zach Brennan, Reed Baillargeon, Bennett Baillargeon and Hope Baillargeon along with his most precious dog, Kooper!  He is also survived by his sisters, Jan (John) Hess and Cheri (Jim) Gutting, brother-in-law, Dick (Joy) Ulrich and brother-in-law, Bob (Jan) Larson along with many nieces, nephews, family and friends.
Memorial services were held at St. Anne's Catholic Church in Somerset, WI on Friday June 11th at 11:00.  There was a visitation from 9-11 prior to the Christian Mass.  A luncheon followed at the New Richmond Golf Club from 12:30-2:30 pm. In lieu of flowers, memorials are preferred.  Gary's service was recorded an available to view on this page.
Gary's family will be forever grateful to The Deerfield staff for their love and compassion, along with family and friends who all walked beside Gary and his family.
Arrangements are with Bakken-Young Funeral & Cremation Services.