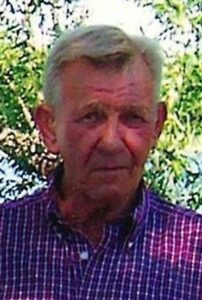 Gail R. Rutledge, 82 years, passed away Monday, December 4, 2017 At Westfields Hospital, New Richmond. He was born July 9, 1935 in Webster, Iowa to Russell and Ruth Rutledge.
Gail moved to the New Richmond area as a young boy and attended New Richmond High School graduating in 1953. He was a member of the WI National Guard and was stationed in Olympia, WA. He married Gini Sue Ohlfs September 12, 1959 and they raised 4 children.
Gail worked as an over the road truck driver for many years. He worked his entire life always taking care of his family. He was a dedicated father who attended his children's activities whenever he was home. Gail was a member of New Richmond United Methodist Church.
Gail was preceded in death by his parents step mother Wilma Boge; wife Gini; brother Glen Rutledge; sister Jean Martell; brother-in-law, Mike Boge; sister-in-law Mary Ellen Rutledge
He is survived by son Michael (Donna) Rutledge; daughters Barbara (Dean) Schroeder, Sheryl (Dan) Radtke, Karen (Andy Brinkman) Storie; brother Robert (Joan) Rutledge; sister Doris Boge; sister-in-law Jan Rutledge; step-siblings; Colleen Torgerson, Ron Boge, Bill Boge, Leroy Boge; former wife, Colette Rutledge; grandchildren, Terri, Tracie (Lucas) Koenig, Nicole (Jimmy) Montour, Missie (Ryan) Armbruster, Scott Schroeder, Susan, Stacey, Steffanie, Shannon, Steven Kunze, Madisyn, Kerrigan, Mhkellan, Brekkyn Storie and 16 great grandchildren.
Funeral services were held at 12:00 noon, Friday, December 8, 2017 at the New Richmond United Methodist Church with Pastor Jeremy  Deaner as the officiant. Visitation was from 10::00 a.m. -12:00 noon at the church. Burial was in the New Richmond Cemetery.  Arrangements are with Bakken-Young Funeral & Cremation Services Beebe Chapel of New Richmond.