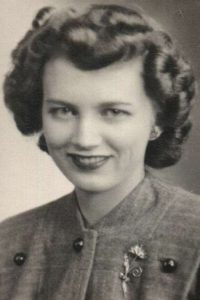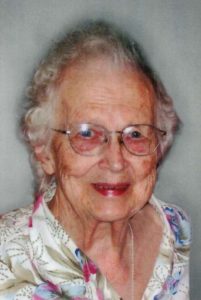 Freida Katherine (Rasmussen) Ylvisaker, age 93 of River Falls, WI, died on Wednesday, February 8, 2017 at Kinnic Health & Rehab in River Falls. She was born on October 1, 1923 in the town of Springfield, St. Croix County, Wisconsin (Glenwood City). She was the youngest daughter of five children born to Louis and Katherine (Smith) Rasmussen.
Freida grew up in the country, where she loved the flowers, the gardens and the geese that frequented the stream running through the family farm. Her love of nature transcended through her life as she enjoyed traveling to the mountains, gardening and feeding the birds in her back yard.
She attended Broadview School, where she was an excellent student and an accomplished writer. She received recognition and awards for her scholastic skills. She was also the family photographer, taking pictures and recording them for everyone to enjoy.
As a young girl, Freida moved to River Falls, where she worked at the Henry Lang Manufacturing Company. While there, she developed skills as a Master Seamstress and Alterations Specialist. Freida received the Army-Navy Production Award for Excellence. She had a "flair for fashion" and as a young gal, she dressed the part. She loved shopping trips to St. Paul with her gal pals.
Freida was a baptized member of the River Falls United Methodist Church where she took part in the Evening Circle Group. She is currently a member of Luther Memorial Church, also in River Falls.
In 1955, Freida met the love of her life, Albert Ylvisaker. They were married on October 13, 1956 at the United Methodist Church in River Falls. They built their new home there in 1963 where Freida resided until the time of her death. Albert and Freida loved to travel, garden, picnic and host family gatherings.
Freida not only mastered the art of sewing, but was accomplished in the kitchen as well. She made the best Rosettes, pie, and all things Norwegian. Although a quiet young lady, she was hungry for information and was a voracious reader.  Freida also loved a good game of Dominoes and Cards.
She is preceded in death by her husband, Albert Ylvisaker (2005); parents, Louis and Katherine Rasmussen; sisters, Helen (Lyle) Larkens and Beulah Rasmussen; brothers, Richard (Goldie) Rasmussen and Glen Rasmussen; nephews, Edwin Larkens, Ronald Rasmussen (infant); and Albert's family.
Freida is survived by nieces, Marlys (Ronald) Anderson and Betty (Dennis) Reinke; nephews, Robert (Sherrie) Rasmussen and Roger Rasmussen; grand-nephews, Gary (Monica) Anderson, Jerry (Amber) Anderson, Tim (Tammi) Anderson and Tom Anderson, Steve (Corinna) Rasmussen and Greg Rasmussen, Kyle Reinke; friends, May (Stan) Ramberg and Doris (Dave) Trebus.  She is further survived by several cousins, neighbors and friends.
A Funeral Service was held on Saturday, February 25, 2017 at 11 am at Luther Memorial Church 420 S 4th Street River Falls, WI. Visitation was also held on Saturday, February 25, 2017 from 9:30 – 11 am at the church. Interment was in Woodside Cemetery near Baldwin, WI. Memorials may be directed to Luther Memorial Church – Memorial Fund or the charity of choice. Arrangements are with Bakken-Young Funeral & Cremation Services of River Falls.