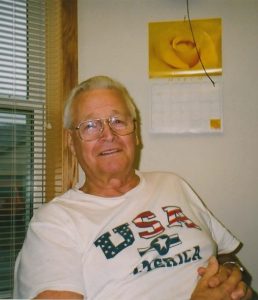 Frederick "Fritz" Anding, 87 years, of Hudson, WI died July 27, 2016 at Red Cedar Canyon in Hudson.
He was born to Raymond and Edna (Holmson) Anding.  Fritz grew up in the Hudson area, attending rural elementary schools and graduating from River Falls High School in 1947.  He was baptized and confirmed at Bethel Lutheran in Hudson.
Fritz married Ruth Seekamp on June 18, 1950 at the Lutheran House of Worship in River Falls.  The first few years of their married life they lived in an apartment in River Falls, moving to the Anding Family Dairy Farm in 1955.  In November 2006, Fritz and Ruth moved to their townhome in River Falls.  After Ruth's death, Fritz moved into Wellhaven Apartments in River Falls.  Most recently, he resided at Red Cedar Canyon in Hudson.
They were blessed with two sons, Randy and Ron.  Fritz and Ruth raised their boys on the family farm. The family dairy operation started as Guernsey Dale Dairy where Fritz, and his father, Ray bottled and delivered their own milk door to door in Hudson.  They sold the business and began exclusively dairy farming.  Their sons joined the family operation as they graduated high school.
Fritz was a faithful servant to the Lord, being involved in the life of the church in many capacities.  From Worship Service usher and choir member to Sunday School teacher to committee/ board member/leader.  Fritz and Ruth were founding members of Faith Evangelical Lutheran Church in River Falls, where they dedicated their service, leaderships, and talents.
He answered his community service calling through many organizations.  He was elected for multiple terms to Troy Town Board as Supervisor.  He was elected to the St Croix Electric board of directors, serving for many years.  As a member of St. Croix County Farm Bureau, Fritz was elected secretary, a position he held for many years.  He also was elected and served on the Board of Directors for Wisconsin Farm Bureau for 12 years.  Over the years, the Anding dairy operation sold their milk to various dairy cooperatives, receiving many awards and recognition for milk production and quality. It was through Mid-America Dairymen, Inc, he served in the capacity of District Chairman. His interest and dedication to dairy education and product promotion, led him to be appointed to the Wisconsin Milk Marketing Board and eventually, the National Dairy Board.
In retirement, Fritz continued to serve in his community as a Board member for Collinswood Condominium Association and an election official for his River Falls city ward.
Fritz's outgoing personality, friendly and ready smile earned him many friends all over the United States. He was known, by many children and adults alike, for his BIG bear hugs! He was proud of his big family and looked forward to the events where they would be together.  Fritz was always ready for a good game of cards and to finish off the day, a big bowl of ice cream (Schwan's loved the Andings)!  The dairy operation occupied the majority of day to day life, but Fritz always insisted on valuable time away from the farm for vacation and recreation.  As a young family, they travelled to visit relatives in different areas of the US, taking advantage of the sights along the way.  As the boys grew and were able to take on the farming responsibilities, Fritz and Ruth had the opportunity to travel and vacation together to new areas of the United States and into Europe.  Fritz even travelled to his mother's homeland of Norway with his sisters and their husbands, Phyllis and Paul Chapin, Carol and Jim Bouvin and Kathy Stohl.  In 2014 he, and his youngest sister, Kathy joined a tour to New Zealand and Australia on an unforgettable adventure.  Evidence of their travels and enjoyment of the beauty God has bestowed upon Earth is captured in the many, many slides and photos they delighted in sharing!
Fritz is survived by his son and daughter-in-law, Randy and Eloise (Harck) Anding, daughter-in-law, Sally Vissers; grandchildren, Keith Anding, Heather (Anding) and Nathan Baar, Rob Anding, Jim Vissers and Shannon Anding; great grandchildren, Karissa and Blake Baar, all of the River Falls/Hudson area; sisters, Phyllis (Paul) Chapin of Baldwin WI, Carol (Jim) Bouvin of Lexington KY, Mary (Dick) Bennett and Kathy Stohl, both of Hudson WI; brother-in law, Ron (Mary) Seekamp of Fridley MN; sisters-in-law, Nancy Seekamp of NC and Helen Eberhart of Sun City AZ and many cousins, nieces and nephews.
Fritz was preceded in death by his parents, his wife, Ruth, in 2012, his son, Ron, in 2006. Also preceding him were brothers-in-law Ron Stohl, Richard Seekamp and Robert Seekamp.
In lieu of flowers, the family requests memorials to St. Jude's Research Hospital or Arthritis National Research Foundation. A Funeral Service was held  Wednesday, August 3, 2016 at 11 am at Faith Evangelical Lutheran Church 545 Apollo Road River Falls, WI.  Visitation was Tuesday, August 2, 2016 from 4-8 pm at the Bakken-Young Funeral Home 805 E Division Street River Falls, WI and on Wednesday from 10-11 am at the church.  Interment was in the Greenwood Cemetery in River Falls.
Bakken-Young Funeral & Cremation Services of River Falls is assisting the family.
Link to live stream of funeral service at 11:00 am on Wednesday, August 3, 2016:
http://www.justifiedbyfaith.net/site/cpage.asp?cpage_id=180065767&sec_id=180014650