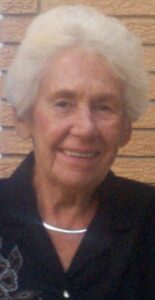 Frances Mae Pauline Romsos Nelson was born to Ansgar Norman and Hazel Gertrude Romsos on September 21, 1933, in Ladysmith, WI. She was called home to be with the Lord on December 23, 2022, where she joined her husband of 62 years; Wayne Allen Nelson.
"Frankie", as she was known to her friends, grew up in Bruce, WI where she was involved in band, basketball, theater, forensics, and many other school activities. It was also where she first caught the eye of her high school classmate and boy next door, Wayne. They dated throughout their high school years, but upon graduation, they went their separate ways. Wayne, to Marquette in Milwaukee, WI and Frankie, salutatorian of her class, received a scholarship to go to Northwestern Nursing hospital in Minneapolis. Always staying in touch, Wayne had transferred to NDSU for pharmacy school and when he could, he would hop the train to visit Frankie in Minneapolis. He attended her "white cap" ceremony on June 12, 1952 and later he was present when she graduated with honors and a RN degree. By then Wayne had proposed, and they were married on June 12, 1955. They made their first "home" in a studio apartment above the pharmacy where Wayne interned in Rice Lake, WI. Frankie worked at the local hospital and when the internship ended, they made the move to Chippewa Falls, WI. They both had new careers, they bought their first house, and they welcomed their first son, Steve.
In 1957, the Nelson family made their final move to River Falls, WI. Frankie continued to work as a Registered Nurse, while Wayne's career morphed from Dewey Drug, to Walgreen's/Ben Franklin, and eventually Snyder Drug. They welcomed three more children; Vicki, Craig, and Sandra. Theirs was a true partnership. Frankie eventually retired from nursing to hold down the fort at home and help Wayne with their local businesses. They invested in the community of River Falls, made many valued friendships, watched their family grow and thrive with the addition of spouses (Barb), grandchildren (Stephanie, Ryan, and Meghan) and eventually great grandchildren (Braydon, Leah, Madelyn and Theodore). Frances was a dedicated nurse, a loyal spouse, a valued sister to Jim and Karen, a devoted mother and a friend to many. She will be greatly missed, and the Lord has gained an amazing woman.
Please join us in celebration of her life on Monday, January 16th, 2023, at 11:00AM at Ezekiel Lutheran Church (202 S 2nd St) with visitation one hour before the service. Interment will be at a later date in Greenwood Cemetery. Memorials preferred to Ezekial Lutheran Church or Comforts of Home Resident Enrichment and Activities fund. Arrangements are with Bakken-Young Funeral & Cremation Services.
Click here to watch the recording of Frankie's service.