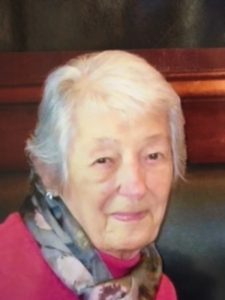 Florence Railsback, Director of the Friday Memorial Library for 23 years, is dead.
Florence Marie Railsback, who became director of the Friday Memorial Library in 1970, died at home in New Richmond on May 31, 2017.  She was 90.
Florence Railsback became director of the library in 1970, when the population of New Richmond was less than 4000.  She oversaw the addition of a Children's Room, as well as the transition to electronic records.  She retired from the library in 1993.
Florence Marie Strauel was born May 25, 1927 in Minneapolis, MN.  Her parents were Frederick Arthur and Charlotte Ann Strauel.  He was a draftsman who worked in the Purcell & Elmslie architectural office.  She was a homemaker and seamstress.  Florence earned a bachelor's in library science from the University of Minnesota.
On August 14, 1954, Florence married The Reverend David Haskel Railsback and became mother to his young children, Jon and Beth.  Together, they had five more children.  After serving in various parishes around the Midwest, they moved to New Richmond, WI in 1970 at which time Florence's work provided the primary income for the family, and David took over the running of the household.  Their home was open to many guests, including for a year, an AFS student, Harald Reiso, who returned to New Richmond to celebrate Florence's 90th birthday.
Following her retirement in 1993, Florence and David travelled widely, even visiting countries previously closed to Westerners, Russia and Eastern Germany among them.  After David's death in 1996, Florence surrounded herself with a matrix of smart bridge players, many of whom have become an extended family.
She cut flowers and asparagus from her garden.  She kept her bird feeders full.  She sparred with only the best bridge players.  And she always voted.
She is survived by her sister, Charlotte Wilmot; her children, Grace Sullivan, Jon Railsback, Beth Ray, Randi Low, David Railsback, Paul Railsback, Barb Daugherty, and Amy Graf; as well as 15 grandchildren; and six great-grandchildren.
A family graveside service will take place on Sunday, June 4, 2017 at the New Richmond Cemetery.  Arrangements are with Bakken-Young Funeral & Cremation Services Beebe Chapel of New Richmond.