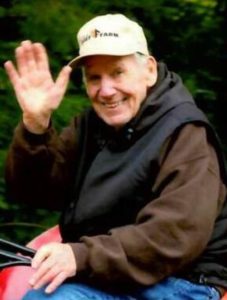 Everett C. "Sook" Vaught, age 88, of Hudson passed away on Monday, December 6, 2021. Everett grew up in St. Paul, MN and graduated from Johnson High School. He served his country in the US Army based in San Antonio, TX. On September 19, 1953, he married Mae Ariola at St. Ambrose Church in St. Paul, MN. Everett was a barber for many years with his uncle, he also worked at 3M, retiring in 1994. He loved hunting, being outside, and dogs and cats. He moved to Hudson in 1990. He enjoyed living on his hobby farm in the country. He looked forward to hosting the Harvest Hoe-Down party every fall. He loved having pumpkins for the kids. He enjoyed spending time camping, snowmobiling, and partying at the "40" for many years.
Everett is remembered as a generous, kind, and friendly person. He was a strong-willed man of character. He was preceded in death by his wife of 66 years, Mae. Sook will be sadly missed by his daughters, Deborah (Mike) McMahon and Cindy (Dareld) McGuire; his grandchildren Justin (Amber) and Kristin McGuire, and Melissa and Michael (Trina) McMahon. He will also be remembered by many family and friends.
A visitation was held on Friday, December 17, 2021 at 1:00 pm, followed by a Memorial Mass at 2:00 pm at Guardian Angels Catholic Church in Oakdale, MN. In lieu of memorials and flowers, we're sure Sook would prefer everyone to do something special with their family. Cremation services provided by Bakken-Young Funeral & Cremation Services.