Zoom Webinar: Coping With Grief After A Substance Use Or Overdose Death
April 24 @ 6:30 pm

-

8:00 pm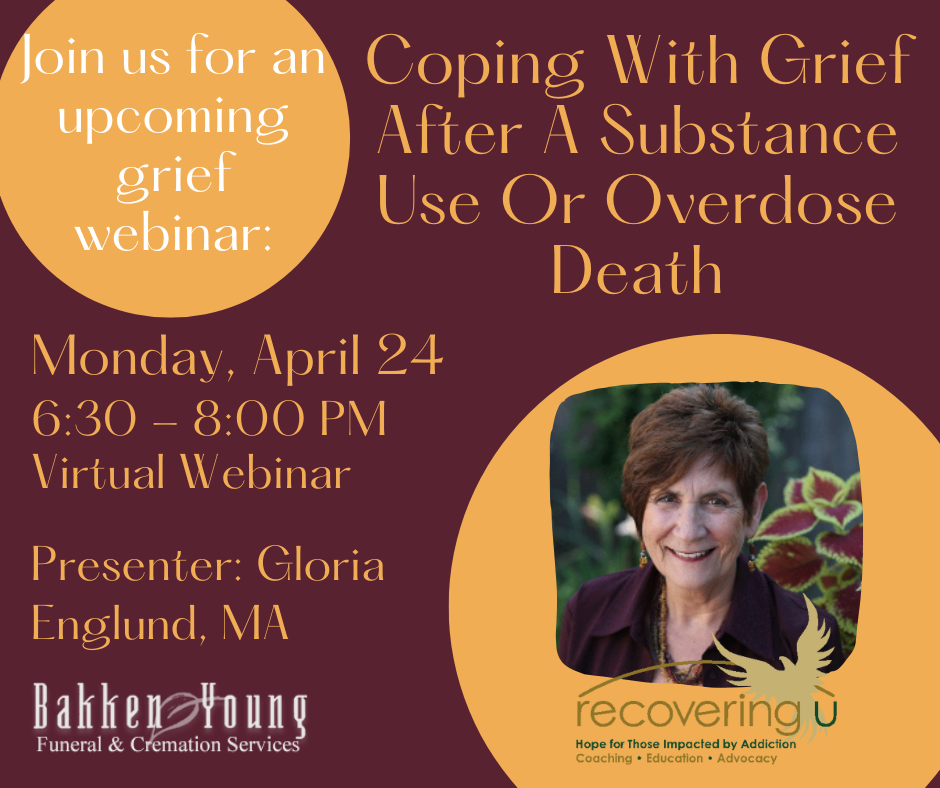 Bakken Young Funeral & Cremation Services is offering a free webinar for the bereaved. Please join us virtually for this event on Monday April 24th from 6:30 – 8:00 PM.
Webinar Title: Coping With Grief After A Substance Use Or Overdose Death
 Presenter:  Gloria Englund, MA 
Objectives for the webinar: 
Provide various experts definitions of substance use disorder (SUD) to understand how the condition affects the personal grieving process of the loved one.

 
Offer information on substance use disorders – myths and misconceptions.

 
Discuss the distinction between the focus on "why" the loved one died versus "what" was the cause of the death.

 
Discuss the stigma and shame that often comes with SUD/overdose death by providing the source of the stigma and understanding how that relates to the bereaved.

 
Discuss the intersection of grief and trauma in a SUD/overdose death of a loved one.

 
Provide resources for learning to grow with your grief.

 
About the Speaker
Gloria Englund, founder of Recovering u breaks new ground in the field of addiction recovery and support. As an ally of the recovery community, she honors all pathways of recovery. She is a psychotherapist, who holds a Master of Arts degree in Human Development. As a certified Recovery Coach, she works with individuals and families dealing with an addiction to alcohol, drugs, food, and relationships. Gloria has personal as well as professional knowledge of addiction and recovery; her oldest son, Aaron, died of a heroin overdose in 2007. As an accomplished public speaker, advocate and published author, Gloria brings a message of hope and recovery to others.
Sign Up Information
You can sign up for this event here: Zoom Webinar Registration
This event is a virtual webinar. You can attend the webinar from the comfort of your own home. You are encouraged to open your cameras & mics to share, and are welcome to share a photo of your loved one. Please share with other grievers who may benefit from this event. Thank you!