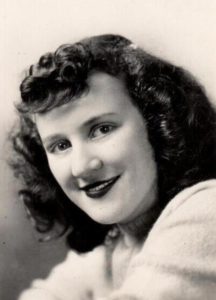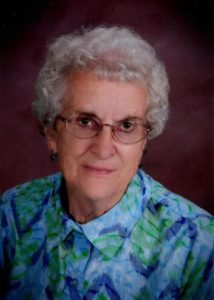 Evelyn (Evie) Roen passed away peacefully two days before her 92nd birthday on May 9, 2020 at the Kinnic Health & Rehab in River Falls, WI. She was born on May 11th, 1928 to Max and Matilda Kiefer in El Paso, Wisconsin, was baptized and confirmed and married at St. Paul's UCC in Ellsworth, WI, and graduated from Ellsworth High School in 1947.
Because of their deep love for and dedication to each other, Evelyn and Arnold enjoyed 72 years of marriage. Their love and care for each other was a model not only for their family but for the community as to what commitment looks like. Together they always made all of their children, grandchildren, and great-grandchildren a priority, from birthdays to activities to programs. Each year, Evie and Arnold hand-made gifts for each family member together.
Guided by her strong faith, Evie believed all would be well if you looked to the Lord for answers. Her dedication to her faith and Rush River Lutheran Church included many years serving on the Alter Guild and as church treasurer. This also contributed to her ability to see other's needs and her greatest passion in life was doing whatever she could to help. Whether sharing what she had with family and friends or lending a hand to neighbors or even strangers, no one left her home empty-handed.
Evie believed in hard work. There was always a particular and correct way to do everything. As a young woman, her first job was working for the telephone company in Eau Claire, WI. After time away from work to raise her family, she took a job at The Town Shop, a women's clothing store in River Falls. However, she was most proud of her position at the University of Wisconsin – River Falls in the bookstore. For eleven years she helped students learn good work ethics and provided support as "campus grandma." Throughout all of this, Evie worked alongside her husband on the family dairy farm and enjoyed cooking, cleaning, baking, gardening, sewing and picking berries.
Evie was incredibly proud of her husband's service in World War II and was an active member of the River Falls American Legion Auxiliary Post 121. You were never to miss a Memorial Day service to honor all of the veterans. She and Arnold traveled around the country to many reunions of friends from the war, even hosting one at their home in 2000.
Traveling brought Evelyn so much joy. From camping with their long-time camping group to domestic and international trips, she always packed enough for everyone. With family and friends, they visited, Norway, Canada, Alaska, Hawaii, and places all across the continental US.
Preceding her in death were her parents, Max and Matilda Kiefer; brothers, Ralph (Dorinne), Howard, and Donald Kiefer; sister, Mazie (Dempsey) O'Connell; brothers-in-law, Lyle (Bev) Roen, Lloyd Torkelson, Edward Winger; sisters-in-law, Doris Roen, Doris (Glenn) Knutson; three infant sisters; three infant grandchildren; and her son-in-law, Fred Kennett. She is survived by her husband, Arnold Roen; Bonnie (Bob Haugerud) Kennett, Kathy (Bob) Swenson, LuAnn (Gary) Johnson, Karen (Barry) Danielson; her sister, Betty Winger; brothers-in-law, Harley Roen, Kenneth (Deanna) Roen; sisters-in-law, Marlys Torkelson, Audrey Kiefer, Bev Kiefer; 8 grandchildren; and 13 great-grandchildren.
A private family visitation and burial took place on Saturday, May 16th.  A public Celebration of Evie's Life will be held at Rush River Lutheran Church at a later date.  Arrangements are with Bakken-Young Funeral & Cremation Services.