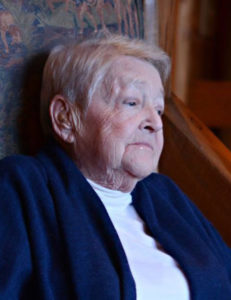 Evelyn (Evie) Kiesling of River Falls, Wisconsin completed her life's journey on December 13, 2021 following a sudden illness. Born Evelyn Patricia Molle on March 17th, 1928 in Niagara, Wisconsin she was the sixth of nine children born to Louis and Elizabeth Molle. After a loving childhood in Niagara, Evie attended the University of Wisconsin, Madison where she met her future husband, Bill Kiesling. Their union produced a son and a daughter.
The family accompanied Bill in 1959 on a 4 year U.S. Government posting to Istanbul, Turkey and another shorter posting to Kathmandu, Nepal in 1964. Evelyn successfully met the challenges of raising a family under the exceptional trying conditions encountered during these times abroad. She always considered these years to be the very best.
Evie and her children relocated to River Falls in 1965 to be near family. She became a member of the River Falls Clinic staff as their Medicare specialist, a position she held for the next 40 years. She always cherished working with older citizens and developed many close bonds with her clients.
Evie is preceded in death by her former husband, three brothers, two sisters and dear friend Dale Sargeant. She is survived by her son Bill (Beth) Kiesling, Jr. of Batesburg, S.C., her daughter Paula (Ed) Whitman of River Falls, two grandchildren, Betsy (Brandon) Heitkamp of Aiken, S.C. And Paula Sophia Kiesling of Batesburg and two cherished great grandchildren, Barton and Ridge. She is also survived by 3 sisters, Lyida Haskins of River Falls, Doris Growden of Lake Tahoe, NV., Kathy Michaud of Kingsford, MI., and attentive nieces and nephews. The kind support provided by Evie's local extended family, especially as she aged, allowed her to remain independent and is greatly appreciated by her children.
As per Evelyn's wishes, no funeral services will be held. A private final interment will be held in the family cemetery located in rural Saluda County, S.C.  Cremation Services provided by Bakken-Young Funeral & Cremation Services.