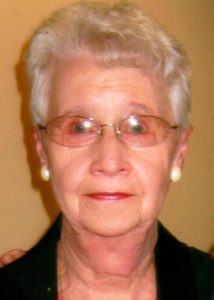 Evelyn Charlotte Wood Funkhouser, died on 4 February 2021 at the age of 92. The youngest child of Daniel and Ethel (Cain) Wood, she was born on 9 January 1929 on the family farm, attended Beaver Brook Country School and graduated from Clear Lake High School in 1947. Moving to St. Paul, MN to live with her oldest sister, Gladys and Rudy, she met and married John who had five children, Richard, Ronnie, Bobby, Donna and Judy on 15 January 1953. Her boys all joined a branch of the Armed Services and all settled in the state of Texas, while her girls married and continued to live in Minnesota. Evie and John lived in St. Paul, MN until August of 1981, when John died. In the year 2000, Evie sold her St. Paul, MN home and moved to Hudson, WI to be near her brother Lyle and wife Helen and their families. Soon after moving, Evie joined the team of workers at the Senior Center serving noon meals. She loved working in the dining area and one year was awarded Employee of the Year. Evie enjoyed several road trips with her granddaughter Shelly to Arkansas and Texas to visit family, to the Black Hills of South Dakota and to Duluth, MN to see the sights. In 2003, Lyle and I took Evie to Houston, Texas to be in celebration at her grandson, David's military wedding. In the last 20+ years, Evie spent time with family and friends attending many events and holidays. She enjoyed walking around her apartment complex with her neighbors. Evie's life slowly came to a close after 7 weeks in the Hudson Hospital and 10 days in a Hudson nursing facility.
Evie is preceded in death by her husband, John and his children; parents; and siblings. She is survived by her grandchildren and great-grandchildren, Funkhouser daughters-in-law and their families in Texas and Arkansas; Lyle and Helen and their families; her brother Clayton and Elsie's children and their families; Cain and Wood cousins; and many nieces, nephews, relatives, and friends. We ALL, with love, will continue to remember the life of Evelyn Charlotte Wood Funkhouser.
A Memorial Service was held on Saturday, May 1, 2021 at 12 pm at Bakken-Young Funeral & Cremation Services (728 S Knowles Avenue New Richmond, WI 54017) with a visitation one hour prior to the service. Interment was on Wednesday, May 5, 2021 at 1 pm in Elmhurst Cemetery 1510 N Dale Street St. Paul, MN. Arrangements are with Bakken-Young Funeral & Cremation Services.