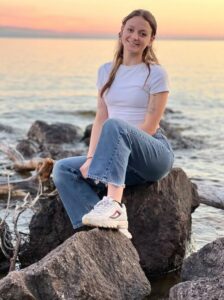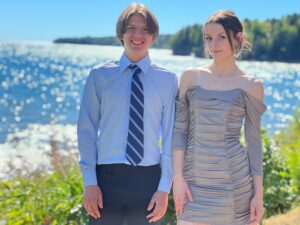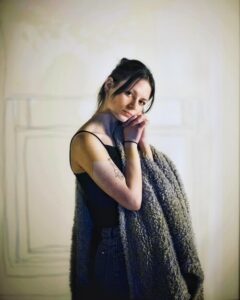 Eva Lindsey Schrank, age 22, dancer, dance instructor, choreographer, artist, and lover of felines, passed away unexpectedly on September 6th, 2022 at home in River Falls, WI. Eva's untimely death has left family and a vast network of friends, teachers, professors, and countless dance families and students reeling and struggling to imagine a world without Eva's creativity, kindness, intelligence, wit, humor, and immense loving spirit.
Eva was born just after dawn on the morning of May 19, 2000 at United Hospital in St. Paul, MN. Legend has it that the night before, after Eva announced her bold arrival, that Dad made sure to drop a video rental off at Mr. Movies on the way to the hospital to avoid a late fee. Mom and Dad always fondly reminded Eva that the birthing nurse had a British accent that ushered her into this world with the words "Push! Push! Push!" Grandma Barb is also known to have exclaimed, "It's a girl!" when dad called to share the news. Grandma Barb had always wanted a girl after growing up with three brothers and then managing a household of three boys of her own.
Eva's youth was bright and fun, full of play and adventure, which included building kingdoms with a special block set, handmade and colorfully painted by Grandpa Bill, spending time with Grandma Pat playing card and board games, and going on overnights and car cruises with Grandma Barb. Eva spent countless hours reading books in both English and Spanish with Mom. One of her favorite activities was listening to Mom's imaginative tales, spun out of thin air, which included Eva as the main character who used super powers given to her by her special pink blankie. Dad and Eva logged hundreds of miles on jogging strollers, tag-along bikes, and pull-behind trailers when she was young, until she reached the embarrassment age. On the last trip, Eva dressed in disguise so as not to be spotted by friends. Arts and crafts, costume play, card and board games (Pretty Pretty Princess the favorite), dolls and Polly Pockets, and learning Spanish from Mom were some of the staples of her time at home. Eva always had the benefit and gift of a stay-at-home parent, as Dad took partial paternity leave in Eva's first year and then left his corporate position to start his own home-based business, Flashback Film & Video Transfer in River Falls in 2002. Mom earned her teaching certification and Master's degree from UW-River Falls and enjoyed spending the summer months away from teaching at home with Eva. Mom and Dad never missed an appointment, school function, or other opportunities to participate in field trips, show and tells, school lunches, musicals, plays, speeches, choir concerts, graduations, and dance performances. They will cherish these times forever, most of which are memorialized through countless photos and videos.
Eva loved her brother, Calvin, deeply. They were truly best friends from beginning to end after he arrived on the scene in 2007. They spent many joy-filled hours together, despite a seven year age gap. Eva made a point to teach Calvin how to be an honorable young man, how to be respectful and accepting of others, and would be proud of how the River Falls community has stepped up to care and watch over him. Calvin and Eva most recently had enjoyed connecting through physical fitness at the gym, and they were fortunate to have spent a magical Labor Day weekend together full of laughter, exploration, and adventure with their mother at a family wedding in Two Harbors, MN, which proved to be Eva's final days.
Eva was baptized into a loving community at Shepherd of the Valley Lutheran Church in Lakeland, MN in 2002, and was sponsored by godparents, Patrick and Debbie Huppert, of River Falls, WI. She was welcomed into the loving and caring daycare home of Sarah and Gary Langer during her first year and spent countless hours there over the next four years as an honorary Langer daughter and as an honorary Langer sister to Noah, Haley, and Ryan.
After attending Country Goose Preschool and University Preschool at UW-River Falls, Eva began a 13 year educational journey through the River Falls School District, attending Westside Elementary, Meyer Middle School, and finally River Falls High School, graduating with honors in 2018. Eva was warmly loved and mentored by countless teachers, counselors, school staff, and fellow students. Eva excelled at all subjects, was a conscientious student, and, by all accounts, was a delight to have in class. Eva completed a remarkable educational run at UW-River Falls where they focused on art and art history. Eva graduated with high honors in May of 2022. As a third-generation graduate from the university, Eva proudly strutted across the stage wearing Grandpa Carl's 1976 class ring on a necklace.
Eva wore many employment hats over the years, including time as Dad's shop helper (lil Flashback), River Falls Golf Course, Kinni View Deli, Coldstone, River Falls Insurance, DoorDash, Crystal Cave, Oso Clean, and as a personal assistant to family friend and business owner Jessica Kramer. Most significant, however, were the years that Eva spent as a dance instructor, choreographer, and mentor at St. Croix Valley Dance Academy in Baldwin, WI. Eva's family will be forever grateful to owner, Melanie Kofal, for welcoming Eva into her loving dance family and community and for allowing Eva to share their passion for dance with young dancers.
Paramount among Eva's lifelong passions was dance and art. Eva danced for nine memorable years at St. Croix Valley Dance Academy (SCVDA) in Baldwin, WI before going on to both teach dance and be an active member, choreographer, and President of the UW-River Falls Dance Theatre program. While at SCVDA, Eva gained proficiency in dance styles ranging from ballet, jazz, and tap, to lyrical and contemporary. As an integral part of SCVDA competitive dance teams throughout middle and high school, Eva helped each team earn accolades and several top place trophies. After graduating from River Falls High School, Eva passed on an extensive knowledge and passion for ballet, tap, and jazz through hard work as a dance instructor to young boys and girls alike at SCVDA. Fondly known as Miss Eva, Eva was known as much for superior instruction as for a boundless patience, sense of fun, and for the abiding love shown to each and every young student of dance.
As an artist, Eva imbued every creation with a unique and joyful flair and an acute attention to detail. While at River Falls High School, Eva developed the strong skill sets that served as the foundation for success in the study of Fine Arts and Art History at UW-River Falls. Eva credited the many dedicated ceramics, drawing, and painting professors at UW-River Falls with helping to sharpen their artistic skills and vision. No one who saw Eva's Senior Show in May of 2022 will soon forget a groundbreaking performance art installation that bravely melded painting, dance, and performance art into a thought-provoking and moving showcase for all who were lucky enough to witness and participate in it. Eva's beautiful vision, imagination, and heart are evident in every sketch created, pot spun, and painting produced. Family will forever cherish a prolific collection of sketchbooks, and the gift of a multitude of paintings, collages, pottery, sculptures, and fiber art that Eva so generously left behind.
Eva's legacy would not be complete without a salute to their ability to see, validate, and love individuals from the all too often marganialized LGBTQ community. They helped create a safe, welcoming space for all people to be themselves and to live out loud with dignity and self-pride, which was on full display as an Emcee of the annual UW-River Falls Drag Show and on and off the university campus throughout the years.
Eva is preceded in death by grandfather, Carlyle Schrank, of River Falls, WI, and beloved cat, Loca "Bear," a life-long companion and deep source of comfort and unconditional love. Eva is survived by mother, Nancy of River Falls, father, Jason, of River Falls, WI, dear brother, Calvin, who is a sophomore at River Falls High School, grandmother, Barbara Schrank (Tom Ripplinger), of Hammond, WI, grandparents, Patricia and William Gamble, of Anoka, MN, step-grandmother, Robin Schrank, of River Falls, WI, aunt, Pamela (Rich) Witalka of Champlin, MN, uncle, Scott (Kayla) Gamble, of Anoka, MN, uncle, David Schrank, of River Falls, WI, uncle Steven (Cris) Schrank, of Hudson, WI, step-uncle, Lucas Gulbranson, of Woodbury, MN, cousin, Kimberly (Josh) Weber, of Rochester, MN, cousin, David (Theresa) Witalka, of Chicago, IL, cousin, Sarah Witalka, of Hugo, MN, cousins, Chloé and Luke Gamble, of Anoka, MN, cousins, Charlie and Bennett Schrank, of Hudson, WI, cousin, Marika Hanson, of Chicago, IL, cousin, Alex Hanson, of River Falls, WI, godmother, Debbie Huppert, of Chaska, MN, and so many more kind and supportive relatives and friends. Eva's loving hands and heart will also be missed by recently-adopted cat, Nintendo, and a large collection of herbs and plants nurtured to life over the past few years.
A celebration honoring Eva's full and beautiful life and creative force was held at the River Falls Golf Course on Saturday, October 15th 2022. An open house with a light lunch was held from Noon to 4 p.m. A memorial service with a tribute from the UW-River Falls Dance Theatre took place at 2 p.m. Memorials to the family are preferred. Cremation Services provided by Bakken-Young Funeral & Cremation Services.
Keep dancing!