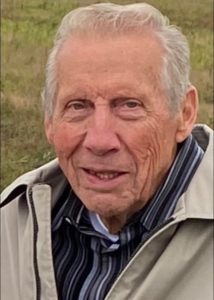 Eugene M Wirth (Gene), age 77, of New Richmond, WI passed away at Regions Hospital suddenly on Friday, January 8, 2021. He was born on October 4, 1943 in River Falls, WI the son of Marvin and Beatrice (Deiss) Wirth and lived on a dairy farm outside of Prescott. The family then moved to Boardman and ran the Wirth General Store. He graduated from New Richmond High School in 1961 and served in the National Guard from 1964 to 1970 and worked for Relander Dairy. He was united in marriage to Cheryl Hinz on August 5, 1972 in East Farmington, WI. He started driving for Cemstone Ready Mix and eventually become a dispatcher for 39 years and retired in 2004. He started working for River Valley Ford in 2006 until he retired in 2018.
Some of his early hobbies included bowling, softball, fishing, hunting, and dancing. After his first retirement, he took up the game of golf. He loved his family, playing cards, high school sports, an occasional pull-tab and listening to old country and polka music and watching westerns. He enjoyed watching NASCAR and the Badgers sports teams and cheering on his Milwaukee Brewers and Green Bay Packers. He loved nothing more than to visit with someone while having a cold beverage and discussing his beloved Hereford cattle and cats. Every summer, the family would travel thousands of miles to exhibit at fairs and shows.
Gene is survived by his wife, Cheryl Wirth; four children: Tracy, Matthew (Melinda), Brent, and Lance; 2 step granddaughters; Ashlee (John) Duff and Alyssa (Jared) Hentz; 2 step great grandchildren; Kaylee and Avalee Duff; 3 sisters, Verla Baker, Corinne (Don) Cardell, Nancy Cavegn; one brother, Allyn (Michelle) Wirth. He is preceded in death by his parents and in laws, Paul and Rita Hinz.
Gene was a member of the Immaculate Conception Church in New Richmond, American Hereford Association, Indianhead Hereford Association Hall of Fame member, Wisconsin Hereford Association and Minnesota Hereford Breeders.
A Public Memorial Mass of Christian Burial was held on Saturday, January 16, 2021 at 1:00PM at Immaculate Conception Catholic Church (151 S. Washington Ave) in New Richmond. A visitation was held on Friday, January 15, 2021 from 5:00-7:00pm at Bakken-Young Funeral & Cremation Services (728 S. Knowles Ave) in New Richmond and one hour prior to the Mass at the church. Interment was in Boardman Cemetery. Guests will be asked to follow all CDC guidelines for gathering including social distancing and face masks. Arrangements are with Bakken-Young Funeral & Cremation Services.
The livestream for Gene's service was operated by the Immaculate Conception Catholic Church. The link provided will bring you to their Facebook page and the livestream will go live approximately 20 minutes prior to the start of Mass. Click here for the link.