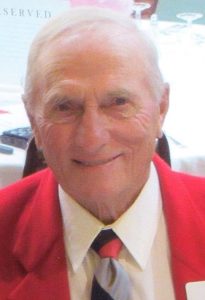 Eugene Allen (Corny) Cox, a longtime resident of New Richmond, passed away on April 26th, in New Richmond, Wis., at the age of 88.
A visitation for Gene was held from 1:30-4:00 p.m. on Sunday May 7th at St. Luke's Lutheran Church in New Richmond, followed by the funeral service at 4 p.m. A celebration of his life followed the service at the New Richmond Golf Club.
Gene was born on Nov. 20th, 1928, to Lawrence and Esther Cox in Chippewa Falls, Wis., and graduated from New Richmond High School in 1946. After receiving his degree in business from Valparaiso (Indiana) University, he married Margaret Zimmerman, with whom he celebrated their 65th anniversary in June 2016.
Gene was very proud to be a resident of New Richmond and remained actively involved in the community serving in various capacities. His love of sports was evident in his being a season ticket holder for the Minnesota Vikings, Minnesota Northstars and attended 45 consecutive Super Bowls. Along with his brother, Dick, and later his son, Brian, he co-owned and operated the Cox Motors Ford/Mercury dealership in New Richmond.
In addition to his wife, Margie, Gene is lovingly remembered by his family: daughters; Barb Peterson (Mike), Karen Elkin (Jeff) and Kathy Leverentz (Tom); and son, Brian (Erin). He is also survived by grandsons; Pat Donahue (Vickie), Kelly Peterson (Laura), Brandt Elkin (Kim), Tim Elkin, TJ Leverentz, Jack Leverentz, Dylan Cox, Hunter Cox, Ben Peterson (Kristi) and Dane Swanda; and granddaughters, Megan Cox, Hannah Peterson (Troy) and Libby Hilsendager (Jon); two nieces,  three nephews and nine great-grandchildren.
In lieu of flowers, memorial donations may be made to St. Luke's Lutheran Church, the National Dementia Foundation, or any charity of the donor's choice.
The family of Gene Cox wishes to thank the staff at The Deerfield, Lakeview Hospice Services, Pastor Ryan and St. Luke's Lutheran Church and, in addition, countless friends for their loving care and support.  Arrangements are with Bakken-Young Funeral & Cremation Services Beebe Chapel of New Richmond.