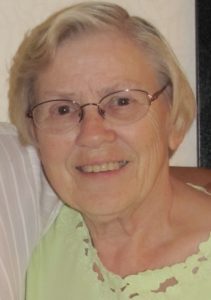 Esther Lorraine Ahrens, 92, of Stillwater, MN (formally Northrop, MN) passed away from natural causes on Thursday, January 21, 2021. She was preceded in death by her husband, Norman Ahrens, son Larry and daughter Linda. Esther was born in Martin County on March 3, 1928. She was the last surviving of seven children. She graduated from Trimont high school, married Norman Ahrens in 1946 and they lived on the family farm. When they retired from farming, they moved to Northrop, where they lived for 43 years. Norman worked for Surge Milking Co. and Esther worked as an office assistant for Fred Carlson, DDS. While living in Northrop, Esther was successful in selling Tupperware, loved to garden, grow roses and can preserves. She also loved sewing and made over 500 quilts for world relief. She loved baking cookies, watching the Twins and Vikings, playing cards and board games with friends and family. Esther is survived by daughter-in-law Cindy (Larry) Ahrens, son-in-law Russ (Linda) Peura, grandson Leighton Moen, granddaughter Lisa Dickerson, grandson Christopher Ahrens, granddaughter Kris Peura and great grandchildren Nelson, Connor and Lily Moen, Jordan Harris and Kaitlyn Paulley, sister-in-law Pat (David) Nordhausen, and brother-in-law Lee (Wanda) St. John. She will be deeply missed by many of her friends and family.
A Memorial Service will be held on Saturday, February 27, 2021 at 11:00AM at Bakken-Young Funeral & Cremation Services (728 S. Knowles Ave) in New Richmond with a visitation one hour prior to the service. Interment will be in Elm Creek Cemetery in Trimont, MN on Sunday, February 28, 2021 at 11:30AM. Guests will be asked to follow all CDC guidelines for gathering including social distancing and face masks. Condolences may be offered to Cindy Ahrens at 1779 46th Str., Somerset, WI 54025. All memorials can be sent to St. James Lutheran Church, 108 S. James Street, Northrop, MN 56075. Arrangements are with Bakken-Young Funeral & Cremation Services.
Click here to watch the livestream of Esther's memorial service.