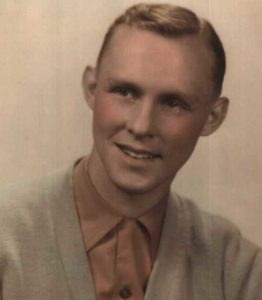 Emerson A. Tetzlaff, 89, passed away peacefully on Monday, February 26, 2018, in River Falls, WI. Emerson was a 1946 graduate of Superior Central High School in Superior, WI. Following graduation, Emerson served in the military for 3 years before working for the Chicago Northwestern Railroad, from which he retired after 38 years.
During retirement, Emerson and his wife Joan (Ritzinger), who preceded him in death at the age of 86 in November, 2015, enjoyed traveling, including cruises through the Panama Canal, the Caribbean, and two on the Mississippi River. In addition, they took trips to the Ryder Cup in Rochester, NY, and to a Palm Springs golf tournament where he had a shot at putting for $25,000.00, which was covered by local media. Unfortunately, he missed the putt, but it was an exciting trip. Emerson and his son also got to experience an African safari, which was a trip of a lifetime. He also enjoyed bird watching, gardening, and maintaining a meticulous yard.
Emerson is survived by his three children; daughters, Kathie (Ed) Rudd, Joan Tetzlaff; son, David Tetzlaff; and special family friend, Kimberly Hoang.
The family will have a private observance for friends and family. The time and place will be determined at a later date. Arrangements are with Bakken-Young Funeral & Cremation Services of River Falls.