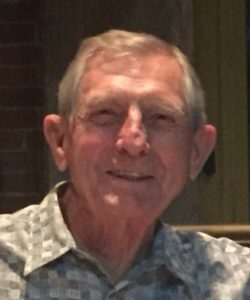 Elven E. Conklin, or 'Al', 92 of Kansas City, MO, formerly of New Richmond, Wisconsin, passed away on Sunday, January 29, 2023, peacefully in the arms of his wife of 69 years, Grace Conklin. Elven was born November 6, 1930, to Harmon and Hazel (Stewart) Conklin in Union City, Indiana. Elven was raised on a farm with his 12 brothers and sisters.
Elven served in the U.S. Airforce from July 1950 to July 1954 during the Korean War. He was stationed at the Osceola Air Base with the 674th Radar Squadron. Here he met the love of his life, Grace (Bierbrauer). They were married, March 28, 1953. Elven was a member of the Masonic Blue Lodge for over 50 years, as well as a member of the American Legion post 80. He spent his career in the meat packing industry, where he worked for Armour & Co for 10 years, then joined the U.S.D.A as a meat grader. He was later promoted and worked as a supervisor for 25 years. He retired in 1990, after being diagnosed with Lymphocytic Leukemia in 1989.
Elven enjoyed basketball, baseball, football, pool, golf, and fishing. He enjoyed baseball so much that he coached little league when his son Robert played. Many trips were taken to Canada to fish at Gold Arrow Camp with family which always included a fun competition of who caught the biggest fish.  Elven and Grace enjoyed traveling and spent many winters in Mesa, Arizona. For over 20 years they were snowbirds. They made many friends, joined both softball and pool leagues, and enjoyed the warm sunshine.
He is survived by his wife, Grace; children Linda (Brian) Omundson and Robert (Sandy) Conklin. Five grandchildren, Elyssa (Luke) Allen, Lacey Omundson, Ashley Omundson, Brittanie (Daron) Ashler and Ethan (Brittany) Conklin. Eight great-grandchildren, Isabella Omundson, Aspyn Allen, Cassidy Allen, Endell Ashler, Emerson Ashler, Grace Conklin, Evalynn Ashler and Trent Conklin. One sister, Jeanette Cline and one brother, Harold Conklin.  Elven was preceded in death by his parents, 5 brothers and 5 sisters.
A celebration of Al's life was held on Saturday May 6, 2023, at 2PM at Bakken-Young Funeral & Cremation Services (728 S Knowles Ave) New Richmond, Wisconsin and streamed live through the link just below this obituary. A Masonic Service started at 12:45pm with visitation following from 1-2 pm. Interment will be in Oak Grove Cemetery at a later date. Memorials may be directed to the Leukemia & Lymphoma Society.    Arrangements are with Bakken-Young Funeral & Cremation Services.
Click here to the recording of Al's service.