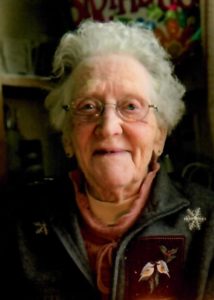 Elsie M. (DuBois) Letson, age 101, of New Richmond died Tuesday, April 27, 2021 at the St. Croix Health Center.
Elsie was born on October 3, 1919, in Sparta, Wisconsin. Elsie was the sixth of 13 children born to Paul and Augusta (Schulz) Knoll.
Elsie graduated from Sparta High School in June 1938. She went on to Cosmetology School in St. Louis, Missouri. On December 8, 1945, Elsie married Robert V. DuBois and to this union four children were born: Larry, twins: Jerry and Judy, and Betty. Judy died just after birth. Robert died on August 21, 1967, at the age of 48.
Elsie started her own Beauty Shop in her home in 1956 and continued to work with her clients for 50 years.
On June 9, 1972, she married Charles F. Letson. Together they started an upholstery business. They reupholstered furniture for 16 years, until Charles' death on December 7, 1990.
Elsie enjoyed gardening, yardwork, and sewing. She kept busy with word search puzzles, playing solitaire and kings in the corner. She was hard to beat at any card game.
Elsie is survived by her children, Larry (Jan) DuBois of New Richmond, Wisconsin, and Jerry (Mary) DuBois of New Richmond, Wisconsin, and Betty (Todd) Neuman of Luck, Wisconsin. Grandchildren, Jen, Dan, Kelly, Robert, Jackie, Julie, and their families, and 9 great-grandchildren.
Elsie was preceded in death by her parents; husbands, Robert and Charles; daughter, Judy; and grandson, Andrew DuBois.
A funeral service was held on Monday, May 3, 2021 at 11:00 am at Bakken-Young Funeral & Cremation Services (728 S Knowles Ave.) in New Richmond.  Visitation was also on Monday from 10:30-11:00 am.  Interment was in Oakland Cemetery in Star Prairie. Arrangements are with Bakken-Young Funeral & Cremation Services.