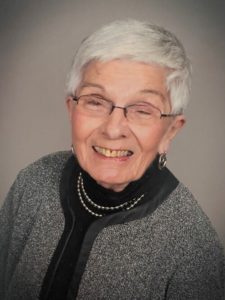 Elizabeth Suzanne Fredericks Halloran Wolf, known to all as Betty Sue, died on Tuesday December 14, 2021 at age 90, leaving a vibrant legacy defined by a deep capacity to love purely and forgive quickly, a fierce and fun-loving competitiveness displayed often in spirited card games with her large family, commitment to hard work, and a seemingly inexhaustible store of compassion, curiosity, joy and optimism.
Her death, from a cancer recently diagnosed, came gently and at home, with her beloved husband, Leo, at her side, along with her seven children, Leo's children, and several of her grandchildren.
A gifted and inspiring educator, Betty Sue spent her life teaching — in the classroom, as a mother, and by grace-filled example, first at the Clara Barton School in Minneapolis and later in Jackson, Minnesota as her journey took her from childhood on Colfax Avenue in South Minneapolis to married life in Jackson.  There, she raised her children in a home that welcomed all, before returning to the Twin Cities area, teaching at Groves Academy and Shakopee Area Catholic School.
Her marriage in 1995 to Leo Wolf, a childhood friend and elementary school classmate at Annunciation Catholic School, brought her to River Falls, Wisconsin, where the door to their gracious home was always open to friends, neighbors, and their combined family of 11 children, 27 grandchildren, 15 great grandchildren, and treasured in laws, nieces and nephews. Their family-centered life has been marked by their loving  affection and respect for one another, an enduring faith reflected in daily practice, and an embrace of old friends and new – including the St. Croix Hospice nurses who helped care for Betty Sue in her last weeks.
Betty Sue, the daughter of Dr. George Fredericks and Elizabeth (Betty) Fredericks Sheehan, was born on October 29, 1931, graduated from Academy of Holy Angels high school, and earned her teaching degree from the University of Minnesota. Her teaching career spanned nearly 60 years, including while she raised her children. Her volunteer commitments were vast, focusing on education, music and funding for both.
Betty Sue inherited her mother's exuberant embrace of life — from music, dancing and games of skill and chance, to hosting elegant and convivial parties animated by her irrepressible spirit and incomparable cooking skills. She passed on to her children a love of fun and learning, of nature and food, gardening, sports, music, and giving one's best effort. She created homes, no matter where, that provided a welcoming refuge for friends, foreign exchange students, foster children, and a multitude of young people drawn to her warmth.
Betty Sue will be celebrated at a funeral Mass at 11 a.m. on Monday, December 20th, at St. Bridget's Catholic Church, 211 E. Division St. in River Falls, WI. Visitation will be held from 2 to 5 p.m. Sunday, December 19th, at the Bakken & Young Funeral Home, 805 E. Division St. in River Falls. WI, and for one hour before the funeral at St. Bridget's. Her burial, in Gethsemane Cemetery in New Hope, MN, will be private.
Betty Sue is survived by her husband, Leo Wolf, her brother Jim (Cathy) Fredericks, her children Dr. Walter (Maura) Halloran, Elizabeth (Alan Levin) Halloran, Teresa (Tim) Martin, Mary (John) Bartek, Dr. John (Carol) Halloran, Michael (Danette) Halloran; Joseph (Kristi) Halloran; Leo's children, Mark (Laurie) Wolf, Darcy (Kevin) Hedrich, Kathleen (Charlie) Kusilek, and Gerald (Caroline) Wolf. She was predeceased by her brother George Fredericks, sister-in-law Pearl Fredericks, former husband John (Jack) Halloran, and granddaughter Christina Wolf.
Those wishing to make a donation in Betty Sue's name may consider St. Bridget's Catholic School or Little Sisters of the Poor.  "Due to the area uptick in COVID cases, guests at the visitation and the funeral Mass will be asked to wear masks to protect the health and safety of all."
Mass of Christian Burial was on Monday, December 20, 2021 at 11 am at St. Bridget Catholic Church 211 E Division Street River Falls, WI Visitation was held on Sunday, December 19, 2021 from 2-5 pm at Bakken-Young Funeral & Cremation Services 805 E Division Street River Falls, WI and on Monday from 10-11 am at the church.  Interment was in Gethsemane Catholic Cemetery 8151 42nd Avenue N New Hope, MN.  Arrangements are with Bakken-Young Funeral & Cremation Services.
Click here to watch the recorded Mass for Betty Sue Wolf