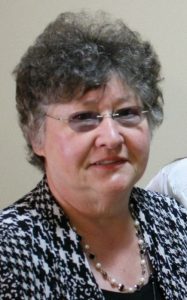 Elizabeth (Betty) DeRoy, age 78, of River Falls, WI was carried home in Jesus' loving arms on Sunday, November 5, 2017, after a two-and-a-half-year battle with ovarian cancer, her family by her side.
Betty was born on January 31, 1939, to Earl and Marian Bennett in Emden, Illinois. In 1949, the Bennett family moved to River Falls, WI. Betty was married to Ralph John DeRoy on December 27, 1958 at the United Methodist Church in River Falls.
Betty loved antiques, auctions, garage sales, and estate sales. Betty and Ralph owned and operated Sittin' Valley Antiques and leased space at the Midtown Antique Mall, Stillwater, MN.
Betty was a selfless person and loved sharing her knowledge with all who listened. When Betty talked with you, you knew she genuinely cared. Her children and grandchildren meant the world to her and are what she enjoyed the most in life.
Betty loved her flower gardens, watching the birds and various critters that showed up in her yard.  She enjoyed traveling to watch her grandchildren's activities. In her later years, Betty was an avid shopper on the Home Shopping Network.
Betty was confirmed, married, and taught Sunday school for many years at the United Methodist Church. She was involved in the Red Wing Collectors Society, attending the annual convention. She also was a polling volunteer for River Falls Township.
She is preceded in death by her parents, Earl and Marian Bennett; brother, Bob Bennett; sisters, Donna Wilkens and Jean (Howard) Robey; and sisters-in-law, Dorothy (Robert) Steffenhagen and Elinor (Fred) Ehlers.
Betty is survived by her husband of 59 years, Ralph DeRoy; son, Paul (Pam) DeRoy; daughter, Maurine (Christopher) Everett; grandchildren, Connor and Danielle DeRoy and Brandon Everett; brothers, Richard (Mary) Bennett, C. Dean (Patricia) Bennett, James (Nancee) Bennett; sister-in-law, Carol Bennett; brothers-in-law, Jerry Wilkens and Robert (Janet) DeRoy; and many nieces, nephews, cousins, and friends.
A Funeral Service was held on Friday, November 10, 2017 at 2:00 p.m. at Bakken-Young Funeral & Cremation Services (805 E Division Street) River Falls, WI. A visitation was held on Thursday, November 9, 2017 from 4:00-8:00 p.m. and on Friday from 1:00-2:00 p.m. at the funeral home. Interment was in Greenwood Cemetery, River Falls, WI. Arrangements are with Bakken-Young Funeral & Cremation Services of River Falls.