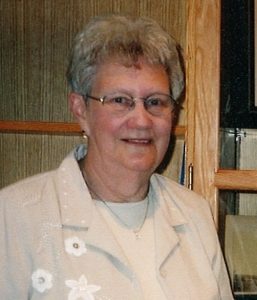 Eleanor N. (Mullen) Johnson, age 88 of New Richmond, WI, died on Tuesday, August 23, 2016 at Westfields Hospital in New Richmond. She was born the daughter of Olai and Caroline (Hansen) Mullen on January 29, 1928 in Bloomer, WI. Eleanor was one of six children. Olai died when Eleanor was two years old, and Caroline and her children moved to a farm near Squaw Lake in the town of Star Prairie, WI in 1933. She went through grade eight at the nearby Squaw Lake School and graduated from New Richmond High School with the class of 1945. Eleanor worked briefly in St. Paul, MN at a bank prior to her marriage to Lloyd H. Johnson on March 23, 1946.
Family and friends were Eleanor's love and joy. She was a full time homemaker, counselor, and helper to her four children and a farming partner to Lloyd. She was an active member of West Immanuel Lutheran Church, the Women of the ELCA, and Cedar Lake Circle. She was a leader for the Cedar Lake 4-H Club for many years and was also involved in the Cedar Lake Homemakers and Sons of Norway. Eleanor was a loving wife, mother, grandmother, and great-grandmother always reminding her family of this with her simple but meaningful line, "Love you lots."
She is survived by her sons, Brad (Sue) Johnson, Jeff (Marsha) Johnson; daughters, Laurie (Roger) Neumann, Heidi (Douglas) Swanson; grandchildren, Valerie Johnson, Andrew (Kristine) Johnson, Amber (Nick) Robbins, Kari Johnson, Marit Johnson, Isak Johnson, Bjorn (Jamie) Neumann, Crystal (Derek) Ruter, Brett (Beth) Neumann, Heather Swanson, Joel Swanson, Heath (Helen) Swanson; great-grandchildren, Sophia Johnson, Olivia Johnson, Alissa Robbins, Benjamin Neumann, Gabrielle Neumann, Emma Ruter, Payton Ruter, Rielly Ruter, Brayden Richison, Haylee Weidel, Maddisyn Weidel, Brynnleigh Neumann, Blake Mann, Bryce Mann, Cole Mann, Frank Swanson; sisters, Anne Ochs, Olene (Ken) Burkinshaw; and many nieces, nephews, relatives, and friends. Eleanor is preceded in death by her husband of 61 years, Lloyd Johnson; parents, Olai and Caroline Mullen; brothers, Arthur (Inez) Mullen, Sigurd (Fern) Mullen; and sister, Oveila (Hansel) Baillargeon Lindsey.
A Memorial Service was held on Saturday, September 3, 2016 at 10:00 am at West Immanuel Lutheran Church with Pastor Rex Brandt officiating. Music will be provided by Crystal Ruter and Laurie Neumann. Visitation was also Saturday, September 3, 2016 from 9:00-10:00 am at the church. Interment was in the church cemetery. Honorary pallbearers will be Eleanor's grandchildren and great-grandchildren. In lieu of flowers, memorials are preferred to West Immanuel Lutheran Church, Luther Point Bible Camp, or memorial of your choice. Arrangements are with Bakken-Young Funeral & Cremation Services Beebe Chapel of New Richmond.