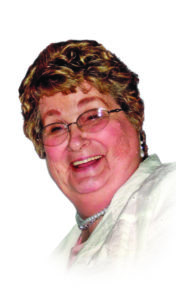 Elaine Dawn Peterson, age 85, died on Thursday, June 25, 2020 at Regions Hospital in Saint Paul, MN. She was born the daughter of Raymond and Lola Ellison on April 3, 1935 in Princeton, MN. Elaine married William Peterson on December 27, 1951. She worked as a school bus driver, at Olson's department store, and as a homemaker. Elaine was a 4H leader and loved bowling and gardening. She was talkative and a social butterfly who was extremely proud of her family.
Elaine is preceded in death by her parents; daughter, Rene; great-grandson, Matt Freeberg; brother, Raymond (Eraine) Ellison. She is survived by her husband, William Sr.; sons, Steve (Marlene), Ronald (Jean), Edward (Sherri), Greg, Bill (Tammy), Eric (Christine), Garret (Amber); numerous grandchildren, great-grandchildren, and great-great-grandchildren; sisters, Sharon (Jerry) Livingston, Glenda Scow; and many nieces, nephews, relatives, and friends.
A memorial service was held Tuesday, June 30, 2020 at 11:00AM at Bakken-Young Funeral & Cremation Services (728 S. Knowles Avenue) in New Richmond with a visitation one hour prior to the service. Interment was in Elmhurst Cemetery in Saint Paul, MN. Arrangements are with Bakken-Young Funeral & Cremation Services.