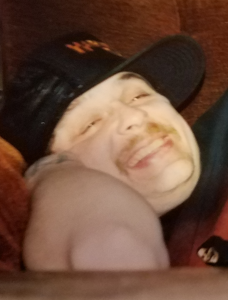 An Angel Gains His Wings
Edwin Phillip Olson 04/11/1961-11/10/2017
Ed passed away on 11/10/2017 due to complications from an infection. He was surrounded by family & friends as he drifted off to be with the Lord. Ed was born 04/11/1961 to Edwin Olson & Doris (Kiekhoefer) Olson in St. Croix Falls, Wi. He attended school in New Richmond, Wi, and was very proud of the time he spent serving our country as a member of The National Guard. He was employed by Polaris Industries for over 20 years, and spent the last 13 years residing in Osceola, Wi.
Ed's favorite place to be, was on his Harley Davidson. He enjoyed hunting, fishing, four wheeling (especially on the mud), camping and target practicing. He was an avid Packer fan. There is no question if the game was on, he was watching. He loved his pets, most recently being 2 dogs named Sampson & Delilah, and a cat named Mow Mow. He treasured time spent with his wife, daughter and friends.
Ed will be remembered by the devoted love he had in his heart for his wife and daughter, his infectious smile, mischievous twinkle in his eyes and the willingness to give the shirt off his back to anyone in need.
Ed was preceded on death by his father, Edwin Olson, his mother; Doris (Kiekhofer) Olson, and brother, Robert Running. He is survived by his wife, Peggy Olson, his daughter Allison (Larson) Grimsby (Ben Grimsby). Brothers, Donovan Running, Gary Running, Ronald Running, David Olson and Charlie Olson. Sisters, Nancy Tornio (Dennis), Mary (Michaeud) Olson (Rodger) and stepson, Todd Stapleman Jr.; special friends, Tracy Zmuda and Carl Olson.
In lieu of flowers, take pleasure in the small things, don't take life for granted. Dedicate the next Packer game you watch to him.  (You may want to wait until Aaron Rodgers is back.) Take one last ride for him. Feel the sunshine on your face, and wind in your hair. Per Ed's request, there will be no funeral.
The family is planning a celebration of life for late next spring and we will notify per paper when this happens.
Cremation services provided by Bakken-Young Funeral & Cremation Services Beebe Chapel of New Richmond.