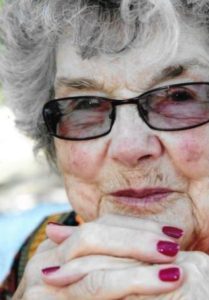 "Dee" Edith Reed Nelson was born to Jessie and Clifford Reed on December 23, 1915 in Hadley, Minnesota.  In 1926, she and her family moved to St. Paul.  She attended Sibley School when it was a four-roomed schoolhouse, then on to Humboldt High School, the University of Minnesota, and St. Cloud Teachers College.  In 1941, after a year teaching in Zimmerman, MN, she married George Gustav Nelson.  They built a home in Elk River, MN where her husband was employed in the banking business.  World War II took him to the South Pacific for four unbroken years.  During that time, Dee taught in the South St. Paul school system.  After the war, they lived in Fairmont, MN.
In 1951, they purchased a farm in Mann Valley west of River Falls where they operated a dairy farm for some years.  Then followed a transition to Nelson Nursery, landscaping, and the antique business.
Summers of wilderness camping and perennial gardens brought family and friends together with travel always on the agenda.  She and her husband George traveled throughout the United States, Canada, the Caribbean, Western Europe, and parts of Asia.  For thirteen years, Dee took great pleasure in her role as volunteer co-coordinator for the UW-River Falls Family Host Program for international students.  It brought enduring friendships between students and community members and her and her family as well.
Dee studied French, took art classes with her husband George, and loved reading and writing poetry.  Loving nature, she shared the beauty of her garden with others and would often send visitors home with small plants, which would become the beginning of countless new gardens.  An avid collector of antiques and artwork, her home was an eclectic collection of beautiful furnishing and décor stating "This is where I've been, this is who I am."
She immersed herself in world events and at nearly 104 years of age she followed politics on a daily basis.  She was concerned about our planet, both the health of its environment and its people.  She was a long-time supporting member of Amnesty International and always believed in causes supporting social justice.  Her philosophy of living life was kindness.
Dee had been a member of the Congregational Church for over 60 years.  She was also a member of the No Name Book Club, the Poetry Circle, Writers Group and a participant in meditative groups.
She is survived by her daughter, Kristin Nelson, sons, Scott (Phyllis) Nelson, Anders (Cheryl) Nelson; grandchildren, Scott Davis, Jessica Nelson, Gina (Steve) Crabtree; and great-grandchildren, Monica Davis, Carson Hoyer, Emmet and Lucas Crabtree; and great-great grandchild, Piper Neisius. In lieu of flowers, donations may be made to Amnesty International or The Environmental Defense Fund.
Memorial service for Dee was held at the 1st Congregational Church, 110 N. 3rd Street, River Falls, WI. Saturday, November 2nd.  Visitation 10:00 a.m., Service 11:00 a.m., followed by dinner and music. Donation services provided by Bakken-Young Funeral & Cremation Services.