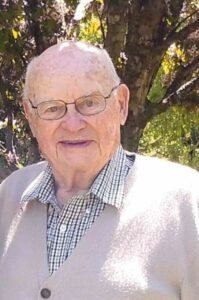 Dwaine Harley Traeder, age 95, passed away Monday January 9th, 2023 at the Deerfield Gables in New Richmond, WI after a long and happy life. Dwaine was born in Rome, WI to parents Albert and Elsie (Vinz) Traeder. He grew up on his family's farm and enjoyed showing pigs at the fair through his 4H club. He would go on to be a 4H leader and dairy judge.
Dwaine served as a Navy Fireman 1st Class in the United States Navy during WWII. After the war he studied at the University of Wisconsin Madison and received a Bachelor of Science in Agriculture and a Master of Science in Meat and Animal Science. On May, 25th 1956 Dwaine married Maxine (Mac) Leone Diamond. They had one daughter, Heidi Beth. Dwaine worked as an Agriculture Agent in Sheboygan, WI from 1954-1964, Hayward, WI from 1964-1969, and Ashland, WI from 1969 until retirement. Later in life he would move to New Richmond, WI to be with his family, especially his three grandchildren.
Dwaine was a very social and friendly man. He had an amazing memory, was very articulate and enjoyed telling stories. He loved going on drives and looking at crops and farms. He enjoyed gardening and landscaping. Dwaine was a man of faith and attended services at First Lutheran Church in New Richmond, WI. He was a wonderful Grandfather who attended all of his grandkid's sporting events, concerts, an any of their other interests. He also encouraged them to join Riverside 4H and was involved in all of their projects, especially when they showed cows. Dwaine was a kind, intelligent, strong, and hard-working gentleman who touched many people's lives.
He is survived by his daughter, Heidi (Paul) Wefel; grandchildren, Megan, Keegan, and Max Wefel; and sister, Yvonne "Vonnie" Richard. He is preceded in death by his beloved wife, Maxine "Mac"; parents, Albert and Elsie Traeder; brothers, Howard and Gus; and sister, Corrine Shaw. If you had the pleasure to hear any of Dwaine's stories or make stories with him, then you know how much of a great man he was. He was so loved and will be dearly missed.
Dwaine's memorial service was held Saturday, January 21, 2023 at 3:00pm at Bakken-Young Funeral and Cremation Services (728 S. Knowles Avenue) in New Richmond, WI with a visitation starting 2 hours prior to the service. Interment will be at Northern Wisconsin Veterans Memorial Cemetery in Spooner, Wisconsin at a later date. Memorials preferred to Mayo Clinic – Cancer Research or given to the family, which will then be donated.
Arrangements are with Bakken-Young Funeral & Cremation Services.