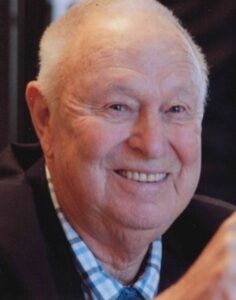 Dr. James Palmquist, age 84 of Baldwin, WI and formerly of River Falls, WI, died on Monday, March 20, 2023 at his home in Baldwin.
Born and raised on St. Paul's east side, Jim graduated from Minnehaha Academy and received his BA and MD degrees from the University of Minnesota. Following an internship at Maricopa County Hospital in Phoenix, he served two years in the US Army. The first year as a battalion surgeon with the 1st Infantry Division in Phuloi, Vietnam. He was awarded the Bronze Star with Good Conduct. He then served at Fort Sheridan, IL.
He then became a family physician at the River Falls Medical Clinic in Wisconsin for 24 years. For seven years until retirement, he was an ER physician at Regina Hospital in Hasting, MN. Board certified by the American Board of Family Practice. He was a past president of the River Falls Medical Clinic and past president of the Pierce-St. Croix County Medical Society, former chief of staff of the River Falls Area Hospital, and a Preceptor to medical students from the University of Wisconsin and the Medical College of Wisconsin.
Following retirement, he and Mary moved to Kauai, HI for 10 years, then Goodyear, AZ for 5 years, back to River Falls and then settled in Baldwin.
Always an outdoorsman, Jim was a hobby farmer, horseman, gardener, hiker, golfer, bird hunter, cross-country and downhill skier.
His favorite activity was camping in the BWCA and the rivers of MN and WI with family and friends.
He was preceded in death by his parents Clifford and Marian Palmquist, brother Stephen and grandson Corey Messing. He is survived by his wife of 41 years, Mary, and his children, Gretchen (Bruce Kuzma and their children Sophie and Max Kuzma) of Savannah GA, Carla (Duane Messing and their children Valerie and Trevor Messing) of Phoenix AZ, Jennifer (Steve Goulette and their children Lily, Vanessa and Isaak Goulette) of Stillwater MN, Stephen (Pam and their children Inga and Erika Palmquist) of Steamboat Springs, CO. Stepchildren, Matt Hasel of San Carlos, CA and Amy Ley (and her daughter Lucy Ley) of Baldwin, WI.
He is also survived by his sister Elizabeth (Scott Forehand) of Seattle, WA.
A celebration of Jim's life was held on April 22, 2023 at the Phoenix in Baldwin, WI from 1-4 pm with Military Honors at 4 pm.
His ashes will be interned in Lutsen, MN, at the Palmquist family cabin.
Arrangements are with Bakken-Young Funeral & Cremation Services.