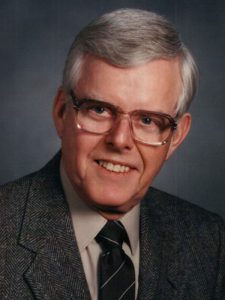 Dr. James L. Craig (Jim), of New Richmond, passed away on Wednesday, June 15, 2016, at Westfields Hospital, surrounded by loving family.  He was 88 years old.
James was born July 10th, 1927, in Baraboo, WI, at St. Mary Ringling Hospital.  He was the son of Harold and Marcia (Langemo) Craig.  Most of his childhood years were spent in Stoughton, WI, where his family owned and operated the Stoughton Shoe & Leather Company.   After graduating from high school in 1945, he attended the University of Wisconsin as an undergrad, followed by Medical School.  He became a Doctor of Medicine on June 20, 1952.
Dr. Craig continued his medical studies in Youngstown, Ohio, with a Residency in Internal Medicine.  This was put on hold when he served his country as a 1st Lieutenant in the Army at a battalion aid station in Korea.   Upon return, he completed his residency with the goal of preparing well for the challenges of becoming a family doctor (or "general practitioner" as it was known then).
In 1957, Dr. Craig traveled the state of Wisconsin searching for an ideal location to practice medicine.   He was happy to find a job opening at the New Richmond Clinic, where he joined Dr. Joshua Armstrong and Dr. Louis Weisbrod to pursue his career.   It was New Richmond's proximity to the Twin Cities & the opportunities there for postgraduate studies that appealed to him.
On December 27, 1961, Jim was united in marriage to the county nurse, Carolyn Jean Adams, at the Methodist Church in Lake Delton, WI.  They were blessed with two children, Paul Douglas & Dana Lynne.  He was a loving husband and a devoted father, who truly enjoyed guiding and watching his children grow to adulthood.  Recently, he attended the college graduation of his granddaughter, Michelle, at North Dakota State University.  He was so proud of her accomplishments as a student of agriculture sciences and business.
Opera buff, wine connoisseur, avid reader, lifelong scholar, stock watcher, philanthropist…these are just a few of the words that describe Jim's many interests.   He also enjoyed hunting, fishing, camping, hiking, archery, skiing, and gardening.  After retiring in 1995, Jim and Carolyn traveled throughout much of the country.  Their adventures took them from coast to coast and to Canada and Mexico – on multiple occasions with family and close friends.  Hawaii, Steamboat Springs, CO, and Branson, MO were among his favorite places.
Jim was a Charter Director of the New Richmond Area Community Foundation, and served the Foundation in many capacities from 1980 to 2008, including Board Chairman.  He was a member of the Pierce-St. Croix Medical Society and the Wisconsin Medical Society.  He also served on the St. Croix County Health and Human Services Board for many years.
James is survived by his wife of nearly 55 years, Carolyn Adams Craig, his son Paul D. Craig and his wife Kimberly of Menomonie, his daughter Dana L. Craig of New Richmond and his granddaughter Michelle L. Craig of Ladysmith.  His sister-in-law Lois Droes of Marion, brother-in-law Mackey Adams of Berlin, NJ, five nieces and nephews and five great nieces and nephews also survive him.
A Celebration of Life for Dr. Craig was held at 11 AM, Friday, June 24th, at the United Methodist Church, 209 East 2nd Street, New Richmond, with Pastor Cathy Hamblin officiating.  Visitation was at 10 AM.  There was also a Visitation at the Bakken Young Beebe Chapel at 112 West 3rd Street in New Richmond from 4 – 8 PM on Thursday, June 23rd.  In lieu of flowers, memorials may be made to the New Richmond Area Community Foundation – or to a charity of your choice.  Arrangements are with Bakken-Young Funeral & Cremation Services Beebe Chapel of New Richmond.