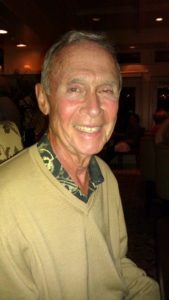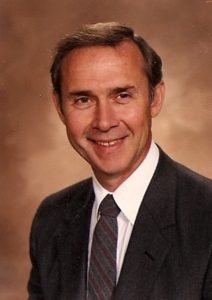 Dr. Donald C. Ruble
Bonita Springs, FL
Donald C. Ruble 79, passed away on Saturday, December 16, 2017 in River Falls, Wisconsin with family by his side after a long battle with Lewy Body Dementia.
Don was born on April 7, 1938 in Owatonna, Minnesota, son of late Donald and Margaret (Chambers) Ruble. Don married his college sweetheart Susan Marie Beaver on March 14, 1959 in Kasson, MN. They were blessed with three children; Jodi Ann, Jenna Marie, and Donald Thomas. He was a loving husband, father, grandfather, and an example to all by how he loved and lived life to the fullest. Don enjoyed basketball, golf, tennis, skiing, and piloting his airplane. He never lost his love for music and continued to play in Bands throughout his life. Don loved to travel and spend time with his children, grandchildren, and friends.
Don dedicated his life to education. He graduated from High School in Waseca, MN in 1956 and Mankato State University with a B.S. (1960) and M.A. (1965) in Music Education. He completed his Educational Specialist degree (1972) and Ph.D. (1982) in Educational Administration from the University of Northern Colorado. He began his teaching career in Frederic, Wisconsin as a Band Director and continued teaching in Mason City and Des Moines, IA. Don was a Principal in Mason City and Cherokee, IA, and Mankato, MN. He was Superintendent of Schools in Fairmont and in Forest Lake, MN. He was a man of great integrity who treated everyone with dignity and respect.
Don is survived by his wife Susan (Beaver) Ruble; daughters, Jodi LaChance and Jenna Ruble (Teri); daughter-in-law Lisa Waypa (Bob); sister, Virginia "Ginger" Kettwig, nine grandchildren, and one great-granddaughter, brother-in-law Tom (Ann) Beaver, sister-in-law Betsy Barry, several nieces and nephews, and countless treasured friends and colleagues.
In addition to his parents he was preceded in death by his son Donald Thomas Ruble and brother-in-law, Jim Kettwig.
A private family memorial will be at a later date.
In lieu of flowers,
Memorials preferred to:
Hope Hospice 9470 Health Park Circle, Fort Myers, FL 33908
Adoray Hospice PO Box 95, Baldwin, WI 54002
Comments and condolences can be sent to Don's family through www.bakken-young.com Bakken-Young Funeral & Cremation Services of River Falls, WI