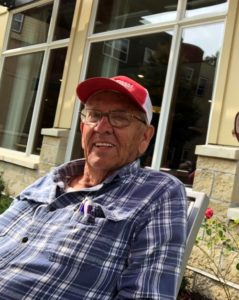 Alan P. Roelfs formerly of Grantsburg Wisconsin, passed away on June 17th, 2022.
Dr. Roelfs was born on November 18th, 1936, and raised on a wheat farm near Stockton, Kansas. He received his B.S. and M.S. degrees from Kansas State University in 1959 and 1964. As a graduate student at Kansas State University, he also worked as a research technician for the USDA Agricultural Research Service. In the mid-sixties he transferred to the University of Minnesota, St Paul. There he continued to work for the USDA and in 1970 and received a PhD in Plant Pathology. He was then promoted to USDA-ARS Research Plant Pathologist at the Cereal Rust Laboratory and became an adjunct faculty member in the Department of Plant Pathology.
Dr. Alan P. Roelfs retired on January 2, 1994, after 32 years with the United States Government.
Dr. Roelfs devoted his career to understanding cereal rust diseases, particularly wheat stem rust and wheat leaf rust. Dr. Roelfs was recognized as one of the world's major leaders in cereal rust research. Following retirement, he retained a part-time association with the Cereal Rust Laboratory and the Department of Plant Pathology and maintained several active research interests.
Alan's love for nature and the outdoors signified how we each should maintain a life well lived. After his retirement, Alan was involved as a volunteer at Crex Meadows Wildlife Area in Grantsburg, Wisconsin. He also provided an active presence in his church community, Central United Methodist Church, Grantsburg.
Alan was preceded in the death by his parents Paul and Florence Roelfs.
He is survived by his brother- Norman Roelfs. His children, Judy Bertram, Lorene Finch, David Roelfs, Rekha Roelfs, and Ravi Roelfs. Three Grandchildren – Kimberly, Amber, and Mindy Bertram.
Please stop by when you are able, to join for a time of visiting with friends and family, as we remember Alan on Saturday, July 23rd, 2022, from 1p.m to 4p.m. at Crex Meadows Wildlife Area in Grantsburg, Wisconsin.
A special thank You to Woodland Hill Senior Living- Presbyterian homes of Hudson WI, and Our House Senior Living Memory Care of River Falls WI for providing care for Alan prior to his passing.
Cremation Services provided by Bakken-Young Funeral & Cremation Services.