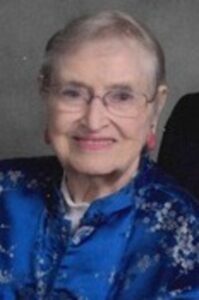 Dorothy Marie Maule aged 84 passed away on Wednesday December 28, 2022 surrounded by her husband John and family.
She is preceded in death by her parents, Ronald and Elizabeth Mulheron, her brothers Ronald Jr., James and Jerome as well as niece Holly and nephews Shaun, Paul Anthony and Curtis Michael.
Dorothy is survived by her husband of 63 years John and children Anne Maule Miller (Lee Miller), Mary Sather, Cindy Robey (Chris Andrews), Annette Bouvin (Erik Bouvin) and Chris Maule as well as 12 grandchildren, 9 great grandchildren and the Miller family.
She gave much time to her Parish, St. Bridget's, serving many years on the Liturgy Committee, in the Resurrection Choir, as a Parish Nurse and Elementary Religious Education Coordinator. She was one of the first Lay Affiliates with the Franciscan Sisters of Perpetual Adoration (FSPA) in La Crosse, WI celebrating her 34th anniversary this year.
Dorothy was well-respected for her kindness, hospitality, generosity, understanding and ministering to others. She had a deep awareness of and call to help those less fortunate, passing this gift to her children and grandchildren. Dorothy had a special way of spreading faith and grace that attracted people to her. She will be loved and missed by many.
Mass of Christian Burial was on Saturday, January 7, 2023 at 11 am at St. Bridget Catholic Church 211 E Division Street River Falls, WI and streamed live through the link just below this obituary.  Visitation was held on Friday, January 6, 2023 from 4-8 pm at Bakken-Young Funeral & Cremation Services 805 E Division Street River Falls, WI and on Saturday from 10-11 am at the church.  Interment will be in St. Bridget Cemetery at a later date.  Arrangements are with Bakken-Young Funeral & Cremation Services.
Click here to watch the recording of Dorothy's service