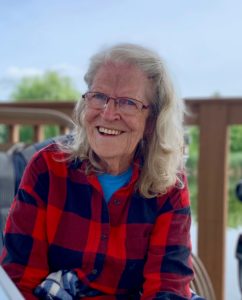 Dorothy Jane Humphrey, age 85, of River Falls, WI joined God's Kingdom in the early hours of Thursday, July 29, 2021 in the loving embrace of her three children at Comforts of Home in River Falls, WI.
Dorothy, "Dotty" to all who knew her, was born by midwife, on February 8th, 1936 to her Mother Helen (Ula) Udelhofen and her Father Arthur Kammerud, in the small town of Blanchardville, Wisconsin. Dotty married David D. Schwark of Wisconsin Dells in 1954 with whom she had four children. She later married Robert Humphrey of Kenosha, WI on August 30, 1995. She is survived by her sons Dan and wife Mary Schwark, Randy Schwark, daughter Robin and husband Thomas Worzella, her sister Beatrice and husband Fred Olsen and brothers Howard and wife Faye Kammerud and James and wife Carol Hendrickson, half-sisters Margaret Ebneter and Dorothy Emery, sister-in-law, Arlene Udelhofen, and grandsons David and Jonny Andresen. She is preceded in death by her oldest son, David John Schwark, brothers Otis, Larry, Donald and Sheldon and wife Aldora Kammerud, and sister Elaine and husband Norbert Weier, half-brother John "Jack" Udelhofen and half sister, Mary Udelhofen.
A memorial service was held on Saturday, August 14, 2021 at 11:00 a.m. at the Bakken-Young Funeral and Cremation Services (805 E Division St) in River Falls with visitation from 9:30-11:00 a.m. Interment was in the neighboring Greenwood Cemetery followed by a luncheon.
Dotty will be most remembered for her great spirit, hard work ethic, quick wit and unwavering sense of humor. She so loved her own children, grandchildren (and any other children that came within arm's reach). Dotty was a dance enthusiast and loved Old Time music. She was proficient in the Waltz, Two Step, Jitterbug and Hop Polka and will no doubt be teaching classes in heaven. You couldn't help smiling as she whirled and twirled on the dance floor. Dotty was also an avid reader…particularly of suspense thrillers and romance novels, making weekly pilgrimages to the Goodwill in Hudson with her son Randy. It wasn't unusual to see three or four paperback books cracked open at any given time around her recliner. Her heart, spirit and humor will be deeply missed.
Special thanks and heartfelt gratitude to the staff at Comforts of Home, The Lodge and St. Croix County Hospice for their ongoing  care, love and support of Dotty over these past 4 years, but also to us, her children, in the depths of our  grief at this difficult time.  Hearing the stories of how Dotty touched others with her feistiness and humor provided much comfort.