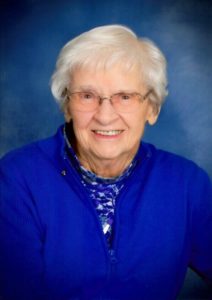 Dorothy Catherine Bishop, age 91, formerly of New Richmond, WI passed away on Tuesday, July 6, 2021. Dorothy was born August 13, 1929 in River Falls, WI to parents Clarence and Catharine (Roberts) Vier. The family lived on a farm where she helped with chores including driving a tractor to help in the fields. She attended grade school at Hammond Central Grade School through Grade 6 and graduated from Hammond High School in 1947. After graduation she worked in an office position at Daytons in Minneapolis, MN. Dorothy also represented her community as Miss Hammond in 1948 for the St Croix County's Celebration of the Wisconsin Centennial. Dorothy married her high school sweetheart, Harold Bishop, on March 13, 1951 at Dorothy's home near Hammond. Harold received his draft notice so the couple moved to Fort Leonardwood, MO where they lived until March,1953. Harold and Dorothy had their first daughter, Catherine, in May, 1952.
Upon Harold's honorable discharge from the army the family returned to Hammond, WI to be with Dorothy's family. After working at various positions Harold was offered a position at HG Stocker in Osceola, WI, where they settled in 1955. In 1967, Harold started TinMan, Inc., a sheet metal contracting business where Dorothy was able to work with him to provide clerical support. While her daughters were in school, Dorothy worked as the Assistant Librarian in the Osceola Junior and Senior High School Library. Harold and Dorothy retired in 1978 when the business was sold and began wintering in Phoenix, AZ and always stopped in Branson, MO on the way home for their favorite shows.
Dorothy was an active member of the Osceola United Methodist Church including her work with the United Methodist Women (UMW) where she held office positions including president. Harold and Dorothy moved to New Richmond, WI in 1994 where they transferred church membership and she continued her work with UMW. Dorothy attended quadrennial UMW Assemblies in Missouri (1990), Ohio (1994), Florida (1998), and Pennsylvania (2002). In 1995 she went on a mission trip to the Red Bird Mission in Kentucky. Dorothy was a member of the Osceola Medical Center Auxiliary and American Heritage Care Center Auxiliary in Hammond WI. She enjoyed giving back to her community and to those in need.
Dorothy's interests included baking (especially pies), canning, sewing, knitting, and crocheting. She crocheted afghans for each of her grandchildren. She was interested in ancestry and did extensive research on her ancestors. Her Welsh heritage was of special interest to her and she was able to travel to Wales with Harold and her Uncle Marvin and Aunt Marilyn Roberts. At that time she was also able to meet with her Wales pen pal of 60 years, Molly Davies. Dorothy was ahead of her generation with technology as she attended WITC to take Word Processing and Excel courses as the eldest student in the class. She actively used a cell phone to call and text with family too! Often people were amazed that someone in her 80's knew how to text!!
Dorothy enjoyed many family trips camping, fishing, and sight-seeing, around the US and Canada. She knew where all of her relatives lived, stayed in touch with them, and made stopping to visit them a part of family vacations. She and Harold also traveled to Europe and South America. Dorothy enjoyed spending time with family, especially grandchildren and great-grandchildren, relatives and friends. She was a devoted Wife, loving Mother, Grandma, Great-Grandma, and friend.
Dorothy is survived by daughters Vicki (Jim) Palmer of Chisago City, MN, Sandra (Kevin) Westling of Mesa, AZ, Mary Cotch of Osceola, WI, grandchildren, great-grandchildren, sister Anna (Bob) Schuett, cousins, nieces, nephews, and Goddaughter Linda DeMoe. Dorothy is preceded in death by her husband Harold, daughter Cathy, father Clarence Vier, mother Catharine (Roberts) Sunde, brother Laurence Vier, and son-in-law Dale Cotch.
A Funeral Service was held on Sunday, July 11, 2021 at 3 pm at Bakken-Young Funeral & Cremation Services 728 S Knowles Avenue New Richmond, WI and streamed live through the link just below this obituary.  Visitation was also on Sunday from 1-3 pm at the funeral home.  Interment was in the Hammond Cemetery in Hammond, WI.  Arrangements are with Bakken-Young Funeral & Cremation Services.
Click here to watch Dorothy's service