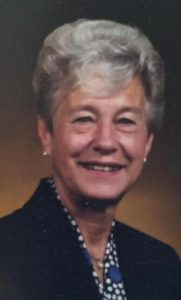 Doris (Dorie) Elizabeth (Tobias) Stafford, age 86, died with family by her side on January 14, 2021, following a brief illness. Dorie was born on September 1, 1934, in Ellsworth, WI, to Emmett and Josephine (Armbruster) Tobias. On September 10, 1955, Dorie was united in marriage to Patrick (Pat) Stafford at St. Bridget's Church in River Falls. Their marriage lasted nearly 62 years until Pat's death in 2017. She is survived by their five children: Sheila Stafford (Phil Mattix), Mark (Polly) Stafford, David Stafford, John (Laura) Stafford, and Tom Stafford (Jamie Barry) as well as grandchildren Eleanor and Anna Mattix and Andrew and Mitchell Stafford. Dorie is further survived by her brother Glen Tobias, sister Connie Jancoski; sisters-in law Cretia Stafford Benolken, Shirley Tobias and Sally Sue Tobias; brothers-in-law Paul Stafford and Robert Jancoski; and numerous nieces and nephews. She was preceded in death by husband Pat, brothers Clair and Jim, sister Leona, birth parents Emmett and Josephine Tobias, and "adoptive" relatives Alfred and Elizabeth (Armbruster) Matzek.
When Dorie was 18 months old, her mother died. Dorie's father, already having 4 other children to raise alone, entrusted Dorie's care to her mother's sister and husband in neighboring River Falls. Even though her father subsequently remarried and started a new family, Dorie became the daughter Alf and Liz never had, living with them her entire youth and graduating from River Falls High School. She treasured the occasional weekends she spent visiting her brothers and sisters in Ellsworth.
Dorie and Pat started their family in Minnetonka, MN, but felt small town life was best for raising their growing family. They relocated to Prescott, WI, and subsequently made River Falls their permanent home.
Forever a woman of style and grace, she always seemed in motion: bowling, golfing, entertaining, playing bridge. Her passion and skill for figure skating afforded her the opportunity to join the Ice Capades but she traded her ice skates for life as a wife and mother. She unfailingly had dinner on the table for her family every night at 6:00 and prided herself on maintaining an immaculate home.
Dorie possessed an incredible work ethic and enjoyed a varied work history including positions in hospitality, women's apparel, office/property management, finally retiring from financial services when she was in her seventies. In addition to her family and marriage, her employment gave her a sense of self, purpose, pride, and independence. Following retirement, she cherished the decade of winters spent in the Arizona warmth with old and new friends, something she missed terribly since Pat's death. Throughout her lifetime, her Catholic faith guided her and provided comfort and relief during challenging times.
Dorie supported her children in all their interests and endeavors, and could be counted on to be in attendance at their events, proudly cheering for them. Forever a Vikings fan and Twins supporter, the excitement of any sport brought her true joy. Her children admired Dorie's ability to connect with their friends and never hesitated to bring them around because she only seemed to foster and amplify the good times.
Dorie established and cultivated the most enduring and meaningful friendships – many sustained for 80 years – and will remain forever in the hearts and memories of all those who loved her and were loved by her.
Mass of Christian Burial will be held on Saturday, September 11, 2021 at St. Bridget Catholic Church in River Falls.  Times are still to be determined. Memorials preferred to the American Cancer Society (cancer.org).
Dorie's family wishes to thank the Red Cedar Canyon Assisted Living staff and Moments Hospice for their kindness and compassion.  Cremation services provided by Bakken-Young Funeral & Cremation Services.