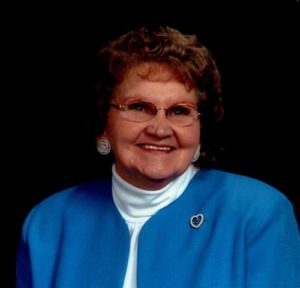 Doris Arlene Thompson Osborne, age 89, died on Tuesday, May 11, 2021 at Westfields Hospital in New Richmond, Wisconsin. She was born the daughter of Adolph and Marian Thompson on March 19, 1932 in Barron, Wisconsin. She grew up and attended school in Star Prairie, Wisconsin. On June 21, 1947, Doris married Frank S. Osborne in Stillwater, MN and farmed in New Richmond. She belonged to the American Legion Auxiliary. Doris loved going to her cabin on Lake Magnor, garage sales, and Bingo. She enjoyed taking care of her flowers and going out to eat with her girlfriends.
She was preceded in death by her parents; husband, Frank who died in 1992; sons, James, David, Michael, Frances; daughter, Diane Fletch; brothers and sisters, Archie Thompson, Marie Ayers, Elsie Breadner, Tommy Thompson, Gordon Thompson, Maynard Thompson, and Lyle Thompson.
Doris is survived by her children, Mary (Gary) Johnson, Ronald (Janet) Osborne, Karen Klescewski, Marlene (Douglas) Schmidt, Noreen (David) Briese, Beverly (Bernard) Kloskowski, Sherry (Bill) Mercer; many grandchildren, great-grandchildren, and great-great-grandchildren; and many nieces, nephews, relatives, and friends.
A Visitation was held on Sunday May 16, 2021 at 12 noon at Bakken-Young Funeral & Cremation Services (728 S. Knowles Ave) in New Richmond. The Funeral Service followed the visitation starting at 1PM. Interment was in Saint Patrick's Cemetery in Erin Prairie. The service was livestreamed via a link at the bottom of the obituary. Arrangements are with Bakken-Young Funeral & Cremation Services.
Please click here to watch the recording of Doris' Funeral Service.