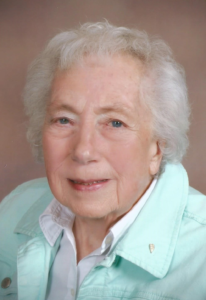 Dory Krumm age 86 of New Richmond died Monday, May 14th at her home. She was born on July 22, 1931 to George and Olga Peterson. She grew up south of Baldwin, attending Riverside Country School, and graduating from Baldwin High School. She earned her teaching certificate at River Falls Teachers College. She taught in several one room schoolhouses throughout St. Croix County. She married Doug Krumm on June 2, 1956 and together they raised six children. A member of First Lutheran Church since her marriage, she could be counted on to help out whenever needed. She was a teacher's aide at New Richmond Elementary for many years, and participated in the STEP program at Hillside Elementary until her death. Many students had the pleasure of reading to Dory.
Dory's family meant the world to her. She was a loving wife, mother, grandma, sister, aunt and friend. She liked gardening, reading, crossword puzzles, sewing and baking. She enjoyed watching her children's and grandchildren's activities, including music, sports and theater. In her later years she was the unofficial scorekeeper at her grandchildren's ballgames. She shared her love of books with her family – everyone wanted to read with grandma. She liked playing piano with her children and grandchildren, often leading Christmas carol sing-a-longs. After retiring, Dory and Doug enjoyed winters traveling south in their motor home. They traveled frequently to Colorado and New York to celebrate their grandkids' birthdays and special events. In addition to her own grandchildren, many others considered her their unofficial grandma.
Even in her last days Dory's smile lit up the room. Her kind and generous spirit will be missed by all who had the pleasure of knowing her.
Dory is survived by her children, Joan Krumm, Christy (Dan) Belisle, Rick Krumm, all of New Richmond, Kim (Scott) Sorenson of Sunnyside, NY, Jim (Margy) Krumm of Lakewood, CO; grandchildren, Drew (Carolyn), Mike, Adam, Juneal, Kaitlynn, Carly, Gemma, Lindsey, and Griffin (mother Nikki Krumm); sister, Betty Wiles; in-laws, Norman Heldt, Reta Kjeseth, Marlene Granger, Sharon (Frank) Reckin, Bev Krumm, Gail (Steve) Krey, and Jean Krumm; many nieces, nephews, relatives and friends.
Dory is preceded in death by her husband, Doug; daughter Kay; parents George and Olga Peterson; brother George Peterson; sisters Esther Krumm and Ethyl Heldt; in-laws Doris Peterson, Skeets Wiles, Virgil Krumm, Neal Krumm, Margie and Obby Berget, Darrell Granger, and Phil Kjeseth.
A funeral service was held at 11 a.m. Saturday, May 19, at First Lutheran Church, New Richmond. Visitation was held from 4-8 p.m. Friday, May 18, and also from 10-11 a.m. Saturday at the church. Interment was in the New Richmond Cemetery.
Arrangements are with Bakken-Young Funeral & Cremation Services Beebe Chapel of New Richmond.