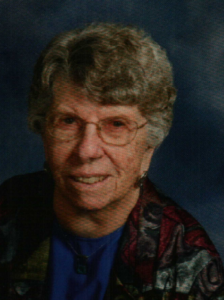 Donna Mae Wisse, age 93, of River Falls passed away Wednesday, July 4, 2018. She was born the daughter of George and Ella (Johnson) Brummels on June 20, 1925 in Hammond. Donna graduated from Hammond High School and in 1944 married Marion Wisse at the First Reformed Church in Baldwin, where the couple first met.
Marion shipped off to fight during World War II, while Donna proudly served her country by working for the government in "Rosie the Riveter" factory in Milwaukee. After the war, Donna and Marion farmed in Hammond and began their family, then they purchased a farm in River Falls in 1959 and raised their family there. Donna was an active member of the First Reformed Church in Baldwin, the United Methodist Church in River Falls and the Homemaker's Club. Shortly after selling the farm and buying a condo in Florida, Donna's husband Marion died. She spent many winters in Singer Island, Florida and loved every minute of it. Summers back in River Falls, she enjoyed working at Dr. Vezina's Vet Clinic. When macular degeneration took her eyesight, she moved back to River Falls and resided at Well Haven.
Donna is preceded in death by her parents, George and Ella; husband, Marion, infant daughters, Sandra Jean and Annette Diane; son, Bruce; daughter-in-law, Jane; sister, Eunice (Bernard) Grotenhuis. She is survived by her son, Duane (Gwynne) of Frederic, WI; daughter-in-law, Pat of Wausau, WI; grandchildren, Jennifer (Chad) Greenquist, Jake (Susie Carlson) Wisse, Kate (Mark) Reineking, Matt (Stacy) Wisse; 11 great-grandchildren; sister, Betty (Gervais) Schmidt; several nieces, nephews, other relatives and friends.
A memorial service was held Thursday, July 12, 2018 at 11:00 am at the United Methodist Church (127 S 2nd St.) in River Falls. Visitation was also Thursday from 10-11 am at the church. Interment was in the Baldwin Cemetery. Arrangements are with Bakken-Young Funeral & Cremation Services of River Falls.