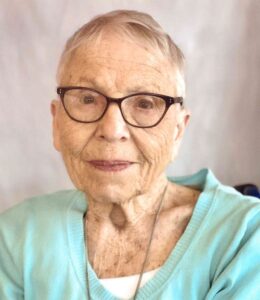 Donna Louise Tilly, died peacefully on May 29, 2023, exactly three years after the passing of her husband of 66 years, James Tilly. For 92 years, she lived with grace and beauty, and touched countless lives. Her life began on December 11th, 1930, in Alexandria, MN. She was one of 6 children born to Wallace and Aurella Sammons. She often told stories of her kind, gentle mother, her loving father and spirited siblings. After the sudden death of her mother in 1941, she moved to Hudson, WI to live with her uncle and aunt, Harlan and Leona Coykendall. After high school, she attended college at UW River Falls. She met her future husband there and began her life with him. Donna and Jim were married in 1955, at Gethsemane Episcopal Church in Minneapolis, MN, and they moved to Ft. Smith, Arkansas where Jim was stationed in the Army and Donna began her teaching career. After completing his service, Donna and Jim moved back to the Midwest, where she taught in Minneapolis, then in the Wisconsin cities of Osseo, Strum, Roberts and finally landing in New Richmond, where she taught for 22 of her 27 years, and where she raised her family. Donna's commitment to education enriched the lives of hundreds of children, dozens of coworkers and 22 student teachers, for which she received honors from UW-RF. She retired from teaching in 1991, but remained a valuable asset to her family and the community as she filled her days in service to others by volunteering with hospice, meals on wheels, Red Cross and spending time with family. She was a loving and dedicated mother, grandmother and great-grandmother, who filled the lives and hearts of everyone she knew with the gifts of knowledge, music, humor… so much humor, sarcasm, joy and gratitude. Her life was a bright light that shined on everyone she met and knew. That light will stay with us all, as her legacy will live on within us forever.
Donna is survived by her girls, Linda (Jon) Aton, Christine (Scott Belisle) Tilly, and Lisa Leahy; grandchildren, Carisa (Jeremy) Fisk, Courtney (Andy) Nicolai, Noah Aton, Luke Aton, Adam (Laura) Shilts, Allison (Justin Troup) Shilts, Torey Shilts; great-grandchildren, Maci and Miles Fisk, Leo and Oliver Nicolai, Jaxtin Troup, Lydia, Gavin and Talen Shilts, Ava, Elaina and Jared Myers; brother, Kenneth (Susan) Sammons; and countless other relatives and friends.
A special thank you and our heart-felt gratitude goes out to the staff of Orchard View Terrance, who loved and cared for our mother for 3, years and to Lakeview Hospice, who gave her the priceless gift of a peaceful death, surrounded by her loved ones.
Memorials are preferred and may be directed to: Lakeview Hospice, 5803 Neal Ave N, Oak Parks Heights, MN 55082. A private interment was held in Immaculate Conception Cemetery in New Richmond. Arrangements are with Bakken-Young Funeral & Cremation Services.